Mayor cancels sanitation workers' Eid leaves to ensure cleanliness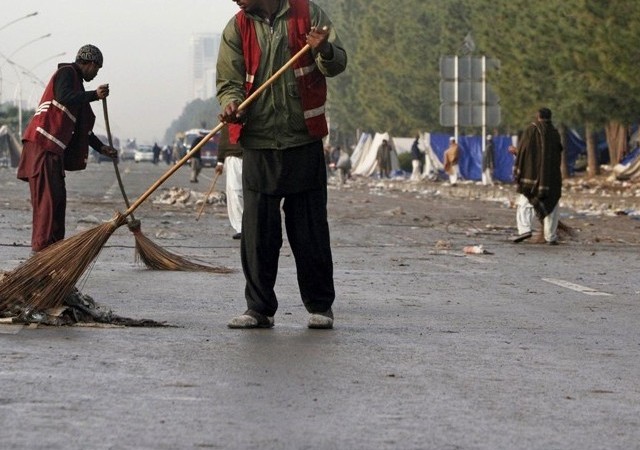 ISLAMABAD, 04 JULY, (DNA) – To keep the Federal Capital clean, leaves of the staff of Sanitation Directorate has been cancelled on the eve of Eid-ul-Fitr by the Mayor of Metropolitan, Shiekh Ansar Aziz.
He directed the all formations to ensure the Islamabad neat and clean and to maintain it during the Eid-ul-Fitr, along with the provision of uninterrupted supply of water and other allied facilities to the residents of the city.
Mayor also directed the concerned formations to deploy the sanitation staff for cleaning the city during the Eid-ul-Fitr in day / night shifts to ensure proper sanitation, a large number of people would go for Eid shopping to the markets and marakiz before and during Eid-ul-Fitr, which would also create sanitation problems, adding that Sanitation Directorate would depute its staff for duty in day/night shifts to maintain the cleanliness.
He directed for constitution of special sanitation teams for cleaning the surrounding areas of Masajid before Eid congregations. He also directed the Environment staff for trimming and removal of wild grass, bushes and shrubs before the Eid-ul-Fitr.
Residents of the city can lodge their sanitation related complaints any time on the Help Line-1334 or Telephone No.051-9213908, which would be addressed quickly.
Meanwhile, Sheikh Ansar Aziz, Mayor, Metropolitan directed the Emergency and Disaster Management (E&DM) that the officers and officials deputed in Flood Relief Cell, would pay their duties with zeal and devotion as per their utmost professional skills during the monsoon season to cope with any untoward situation in case of natural calamities. Muhammad Akram, Deputy Director, E&DM has been nominated as focal person.
Citizens can contact the Flood Relief Cell on Cell No.0334-4091169 of focal person, 16 Fire and Rescue Service and 1334 of Sanitation Directorate and 051-2855513 of Environment Wing Helpline at F-9 Park round the clock. =DNA