Legal, financial complications confront LNG sale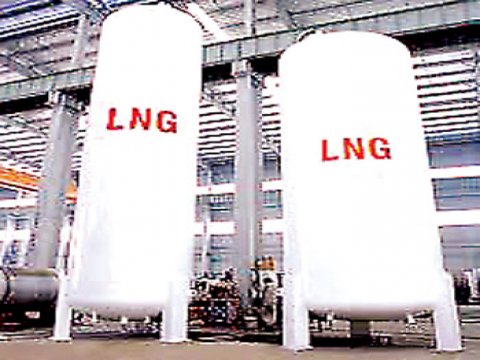 ISLAMABAD: Serious legal and financial complications continue to confront marketing, sales and billing of imported liquefied natural gas (LNG), although the commodity hit the market about 50 days ago.
Informed sources told media that public sector companies in the supply chain — Pakistan State Oil, SSGCL and SNGPL — were purchasing and importing and supplying LNG to a select group of bulk consumers under ad hoc arrangements but without any legal cover.
As a consequence, the bulk consumers like fertiliser units and independent power plants were baffled as to how to utilise LNG imported by the private sector and raise invoices while the third dedicated consumer, the compressed natural gas (CNG) sector, is yet to enter into any binding deal with the public sector for its consumption.
As of now, all the three sectors have resisted depositing "double security" to the Sui Northern Gas Pipelines Limited (SNGPL) for using LNG as the gas utility appeared to be moving towards weighted average cost of gas after including LNG in the natural gas basket that would impact all consumer categories with higher gas prices.
At the back of the scene were some players interested more in coal-based power plants than success of the LNG business even though the country's first LNG terminal was delivered after more than 15 years of efforts, said an official at a gas utility.
He explained that LNG which started flowing into the system on April 1 was initially supplied for 16 days to Pak-Arab Fertiliser which opened the first letter of credit to facilitate the first LNG flow.
An official memorandum described LNG sales to Pak-Arab Fertiliser as local natural gas. But this did not go down well with Pak-Arab because rules subjected LNG imports by the private sector at the time to five per cent general sales tax while local gas was subjected to 17pc GST.
The urea manufacturer is reported to have faced problems in marketing urea. As if it were not enough, the fertiliser sector used to be provided with 32-35mmcfd (million cubic feet per day) of LNG against the official commitment of 55mmcfd, causing capacity problems.
On top of that, lack of clarity in legal mechanism compelled independent power producers (IPPs) to refuse to provide additional security to SNGPL for LNG supply. Also, the PSO has committed too much financing for importing LNG and making arrangements for its future purchases, leaving very limited capacity to ensure smooth supply chain of petroleum products.
Interestingly, SNGPL declined LNG supplies to the CNG sector's umbrella organisation, Universal Gas Distribution Company, on the grounds that it did not obtain a valid licence from the Oil and Gas Regulatory Authority (Ogra). The PSO, IPPs and Pak-Arab also did not have valid licences for LNG.
As a consequence, LNG is being imported, marketed and sold to various consumers, but neither being billed, nor charged or paid.
A logical solution to the logjam is weighted average cost of gas that puts domestic gas (around $4 per MMBTU) and imported LNG (more than $13 per MMBTU) in one basket for pricing.
Such proposals required approval by Ogra which is practically invalid at present because of court cases and shortage of members required to make a decision. Secondly, such proposals were rejected thrice by the prime minister because he did not want to burden common consumers.
The LNG policy 2011 does not allow procurement of LNG from the spot market by the public sector. Section 3.2 (C) of the policy also bars a public sector utility from importing and selling LNG procured from the spot market.
Interestingly, LNG imported in about 50 days has been arranged by public sector companies from the spot market.
The LNG policy allows public sector procurement of the commodity through direct negotiations or international competitive bidding for a period to be specified by Ogra.
Because of this legal lacuna, IPPs, CNG or fertiliser plants are legally barred from extending fresh security deposit to the gas utilities. Likewise, section 13.1 (1) of the Ogra licence issued to SNGPL also requires the gas utility to procure LNG for sales to its consumers through competitive bidding, but the company is getting its supplies directly from SSGCL and PSO.
The legal solution here is to treat LNG purchases by the SNGPL from PSO as field gas (natural gas). This will require amendments to many laws relating to natural gas, LNG and licence conditions.
The problems again is that treating LNG as field gas will automatically mean weighted average price of gas as against the government's decision to ring-fence LNG for all marketing and billing purposes.
Another licence issued to the SNGPL by Ogra requires distribution of natural gas or LNG in a non-discriminatory manner whether it is a domestic consumer or bulk consumer. Interestingly, LNG has so far been provided at will to only a few bulk consumers like IPPs and a urea plant. =DNA
===========