US Senators, COAS visit NWA to review Zerb-e-Azb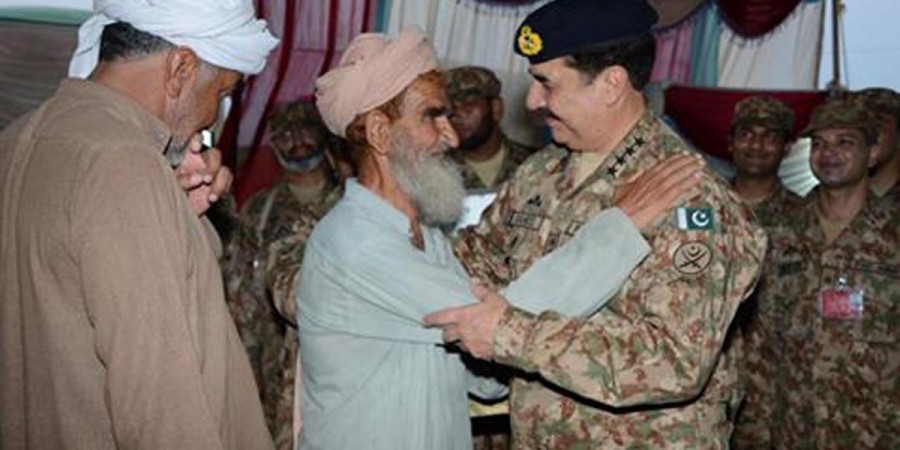 NORTH WAZIRISTAN AGENCY, 04 JULY, (DNA) – Senator John McCain, Chairman of US Senate Arms Services committee, accompanied by a congressional delegation including senator Lindsey Graham and senator Joe Donnelly Monday went to North Waziristan Agency to visit areas cleared of terrorists in Operation Zerb-e-Azb.
Having seen firsthand, the erstwhile hide outs and communication infrastructure, been cleared of terrorists, the delegation was highly appreciative of Pak Army's accomplishment of cleansing the entire area of North Waziristan right upto Pak-Afghan Border.
Senators also commended the rehabilitation work being carried out by Pak Army to resettle tribals back in their area with dignity and honour.
Later the delegation also met with wounded soldiers and officers who were seriously affected during initial phases Operation Zerb-e-Azb and have now voluntarily rejoined the battlefield.
The visitors appreciated the determination and grit of all affected Pakistani soldiers and their unparalleled sacrifice for their motherland.
COAS spends his evening with TDPs, discusses their return
General Raheel Sharif, Chief of Army Staff (COAS) spent his evening with TDPs at Bannu on Monday.
Army Chief had Iftar with the TDPs and exchanged views with them on various aspects of return, resettlement process and development work.
Earlier, COAS visited North Waziristan Agency (NWA). During his visit, which was mainly focused on TDPs and their dignified return to their respective areas, COAS was briefed by the Corps Commander and Formation Commander in detail about post operation security environment, progress of TDPs' return and their resettlement and reconstruction work.
COAS reiterated his emphasis on ensuring quality of life through a comprehensive rehabilitation plan.
On arrival at NWA COAS was received by Lieutenant General Hidayat-ur-Rehman, Corps Commander Peshawar. =DNA