PPP decided to send Sain Qaim home at last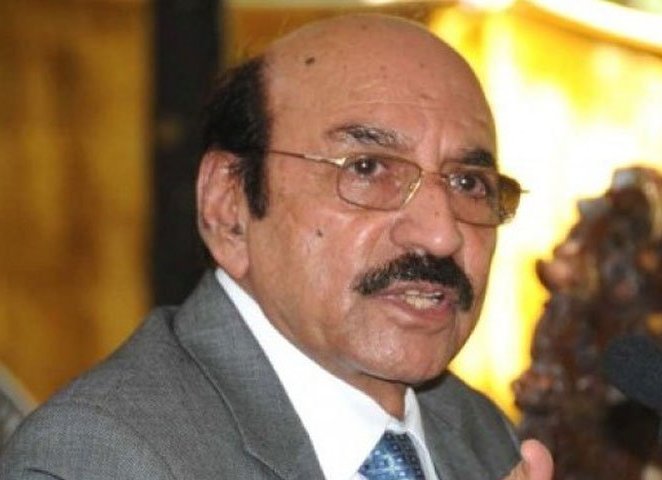 DUBAI: In a surprising move, the top leadership of the Pakistan Peoples Party decided on Sunday to replace the octogenarian Chief Minister of Sindh, Syed Qaim Ali Shah, with a relatively young man to what many believe face tough challenges ahead.
Mr Shah — a third-time chief minister — had gone to Dubai on Saturday to attend a meeting convened by PPP co-chairman and former president Asif Ali Zardari for primarily discussing and finalising a decision on expanding the scope of special policing powers of Rangers to the whole of Sindh.
Although there were reports of an imminent reshuffle in the Sindh cabinet, it appears that even Mr Shah was not aware of his fate when he landed in the United Arab Emirates. Sindh Senior Minister Murad Ali Shah — a top candidate for the post of chief minister — was already in Dubai when Mr Shah arrived there.
Senator Farhatullah Babar, spokesperson for Mr Zardari, said in a statement that the PPP had decided to make changes in the Sindh cabinet, including bringing in a new chief minister. According to Senator Babar, Mr Shah was also present in the Sunday meeting in Dubai which took the decision to remove him.
Explaining the decision, he said it had been taken after "some senior leaders of the party" called on the former president in Dubai.
PPP Chairman Bilawal likely to arrive in Karachi on Monday
Senator Babar said PPP chairman Bilawal Bhutto-Zardari "is scheduled to return to Karachi early in the week (starting from Monday) to meet provincial party leaders and MPAs before finalising changes in the Sindh cabinet".
While the statement did not speak about any other issue that came under discussion during the meeting, also attended by Mr Bhutto-Zardari and Faryal Talpur, sources said Mr Zardari had earlier instructed Chief Minister Shah to extend the policing powers of Rangers only in Karachi division as soon as he reached the provincial capital.
However, Mr Zardari was still reluctant to give Mr Shah a go-ahead to expand the area of jurisdiction of the paramilitary force, as demanded by the military establishment, to the whole of Sindh.
The sources said the PPP co-chairman wanted certain assurances from the military establishment that Rangers would not arrest any elected member or bureaucrat and would inform the Sindh chief minister before taking any action in any part of Sindh other than Karachi.
He also wanted his party to refer the matter of Rangers' stay in Sindh and their powers to the provincial assembly, the sources added.
After his return to the country, Mr Shah would tender his resignation to Sindh Governor Dr Ishratul Ibad Khan, who would summon a session of the Sindh Assembly for the election of the new leader of the house.
A senior PPP leader, requesting anonymity, told media that because of old age Mr Shah "is not moving with the pace of time as he was supposed to".
Besides, he said, Mr Shah was "too soft" on certain issues, which included the current controversy surrounding the Rangers' special powers and their action against certain individuals belonging to the PPP.
The 83-year-old Shah, who was the provincial president of PPP from 2004 until earlier this year when Mr Bhutto-Zardari dissolved all provincial bodies, had survived attempts to replace him in the past. Mr Zardari shot down every proposal to remove him.
Murad Ali Shah, son of the late former chief minister Abdullah Shah, did not contest the May 2013 general election. He was elected unopposed in a by-election from Jamshoro (PS-73) in November 2014 after he renounced his Canadian nationality.
At that time too, he was tipped as the next chief minister after Mr Bhutto-Zardari threw his weight behind him.