Pakistan places high value on its partnership with ADB: Ishaq Dar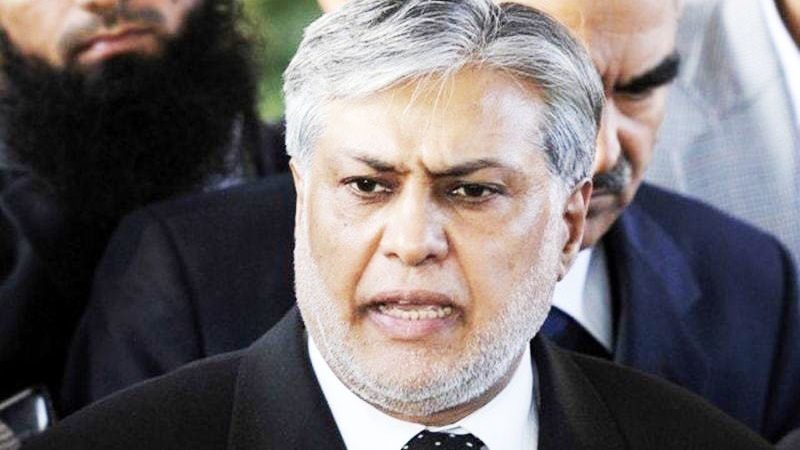 ISLAMABAD, October 25 (DNA): Federal Minister for Finance, Senator Ishaq Dar
Tuesday
said, "Pakistan places a high value on its partnership with Asian Development Bank (ADB) and the government is placing special focus on the development of energy and infrastructure projects in the country."
He made these remarks while talking to Mr. Takehiko Nakao, President of the Asian Development Bank who called on him in Islamabad for official talks.
The Finance Minister welcomed the guest and felicitated him on his nomination for a second term as the President of the Asian Development Bank. He appreciated the leadership of President Nakao in development of pro-growth programs of the ADB. The Finance Minister also expressed his grief and sadness on the latest attack on Police Training College in Quetta.
President ADB, Mr. Nakao offered his condolences on the sad incident that took place in Quetta last night. He said that he was greatly grieved to hear the news of the incident. He also said that such incidents are shocking but the world acknowledges the remarkable resilience shown by the government and people of Pakistan for eliminating terrorism.
President Nakao is visiting Pakistan for official talks with the Finance Minister on the Asian Development Bank's country partnership and for attending the 15th Central Asia Regional Economic Cooperation (CAREC) conference which the government of Pakistan is hosting with the collaboration of the ADB on
25-26 October, 2016
.
The Finance Minister gave an overview of recent economic developments that have taken place in Pakistan and the reform process which the government has rigorously followed to revamp the economy.ADB President congratulated the Finance Minister for leading the reforms under the IMF program.
Speaking about plans of the Asian Development Bank on future cooperation with Pakistan, he said that the completion of the three year IMF reform is seen as Pakistan's commitment to economic stability. He said that with high forex reserves, single digit inflation, and high growth projectionsADB considers Pakistan an excellent development partner.
The Finance Minister invited the ADB to partner with Pakistan in development of economically viable infrastructure projects. The Minister said that the government has successfully put in place policies resulting in a strong macro-economic framework which will provide a platform for higher growth and increased social sector spending.
President ADB said that given the strong economic credentials of Pakistan and forecasting the country's growth trajectory, the ADB is actively considering to increase its development assistance in infrastructure, roads and railways, port facilities, railways and energy sector in Pakistan.He also added that Pakistan's inclusion in the Morgan Stanley Index for emerging economies was a testament of international investors to the transformation of Pakistan to a stable economy.
Senator Ishaq Dar expressed hope that the CAREC Ministerial conference will help facilitate further synergy between member states for enhancing economic integration within the Central Asia region.
The meeting was attended by Governor SBP, Secy EAD, Secy Finance, Secy Water & Power, Secy Statistics, Vice President Asian Development Bank, Alternate Exec Director for Pakistan to ADB Mr Same Saeed and senior officials from the Asian Development Bank. DNA
IMF sees good future of Pak economy with continued reforms
: The International Monetary Fund (IMF)
Tuesday
said that improved macroeconomic stability as well as strengthened external buffers and public finances would provide a solid foundation for the country's economy.
Addressing a joint press conference with Finance Minister, Senator Muhammad Ishaq Dar here at a local hotel, the Managing Director IMF, Christine Lagarde congratulated Pakistan for successfully completing its three years programme with the Fund.
She said the removal of many tax exemptions and concessions, coupled with higher tax collection, has allowed for greater public investment and social spending.
She said that about 1.5 million more poor households were benefiting from targeted social assistance than three years ago, which she said was success of the reform programme.
In addition, she said, the power outages have gradually decreased and the financial performance of the power sector has strengthened while the government has implemented a country wide strategy to improve business climate.
However, she was of the view that although many achievements have been made but still there was much more to be done to promote economic stability.
"Much has been achieved and much more remains to be done, so this is Pakistan's moment of opportunity to forcefully address remaining economic challenges and lay the foundation for more private sector job creation and higher living standards for all segments of the society," she remarked.
She said that while the IMF supported programme has been completed, Pakistan's partnership with IMF continues through ongoing close policy dialogue and capacity building engagements, adding that the fund  would continue support Pakistan to address economic challenges.
"I would like to reiterate the IMF's support for Pakistan as the country moves forward to address its economic challenges and realize its vast economic potential," she said.
Christine Lagarde said that during her discussion with the government representatives, she highlighted that achieving higher and more sustainable growth would also require completing important structural reforms in the energy sector and tax policy and administration.
She said that for sustainable growth there was need to plug losses in
public enterprises and making a sustained effort to improve governance and offer a dynamic and export oriented private sector.
The MD IMF said that Pakistan needed to rely on the strength of its own policies to generate more jobs and improve living conditions.
The main priorities , he said were to reinforce Pakistan's economic resilience and put in place reforms for higher and more inclusive growth.
In parallel, she added, focus on strengthening health, education, closing the gender gap and providing social protection can ensure that gains in living standards are widely shared.