COAS says, across the board accountability essential for prosperous Pakistan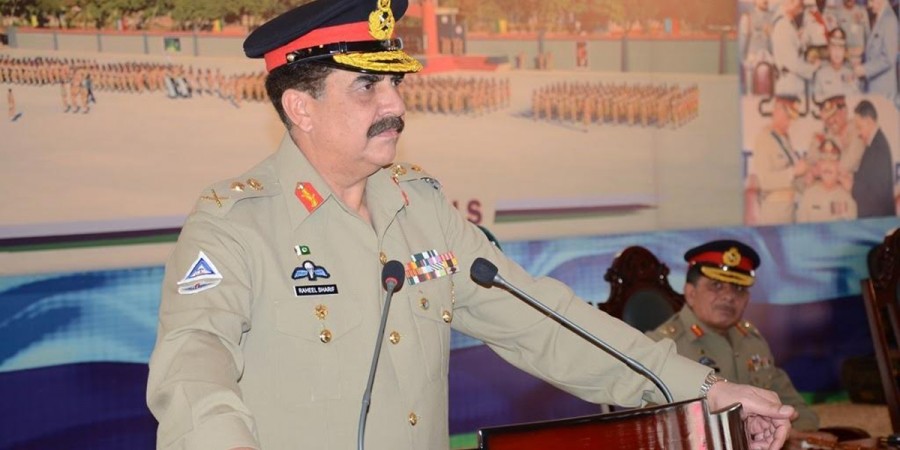 RAWALPINDI: Army chief Gen Raheel Sharif on Tuesday said "across the board accountability is necessary for the solidarity, integrity and prosperity of Pakistan", adding that the war against terror cannot be won unless "the menace of corruption is uprooted."
Gen Raheel said "Pakistan's Armed Forces will fully support every meaningful effort in that direction which would ensure a better future for our next generations."
On a visit to the Signal Regimental Centre Kohat where he pinned badges of rank on Maj Gen Sohail Ahmed, the Army chief commended families of soldiers who had given the ultimate sacrifice for the nation.
He also appreciated the Signals Corps for providing communication support to Operation Zarb-i-Azb.
"The ongoing war against terrorism and extremism is being fought with the backing of entire nation," he said, emphasising the importance of rooting out corruption in the process.
The data leak has revealed financial wheelings and dealings of Prime Minister Nawaz Sharif's family, among dozens of others, including world leaders.
The data from the Panama Papers, available on the website of the International Consortium of Investigative Journalists — one of around 100 news organisations and 300 journalists that worked on mining the data simultaneously — also reveals the offshore holdings of members of Prime Minister Sharif's family.
According to documents available on the ICIJ website, the PM's children Mariam, Hasan and Hussain "were owners or had the right to authorise transactions for several companies".
Mariam is described as "the owner of British Virgin Islands-based firms Nielsen Enterprises Limited and Nescoll Limited, incorporated in 1994 and 1993".
On one of the documents released by ICIJ, the address listed for Nielsen Enterprises is Saroor Palace in Jeddah, Saudi Arabia. The document, dated June 2012, describes Mariam Safdar as the 'beneficial owner'.
According to ICIJ, "Hussain and Mariam signed a document dated June 2007 that was part of a series of transactions in which Deutsche Bank Geneva lent up to $13.8 million to Nescoll, Nielsen and another company, with their London properties as collateral."
Hasan Nawaz Sharif is described as "the sole director of Hangon Property Holdings Limited incorporated in the British Virgin Islands in February 2007, which acquired Liberia-based firm Cascon Holdings Establishment Limited for about $11.2 million in August 2007".
But the papers are not necessarily evidence of wrongdoing. According to The Guardian, using offshore structures is entirely legal.