US Embassy's business model competition ends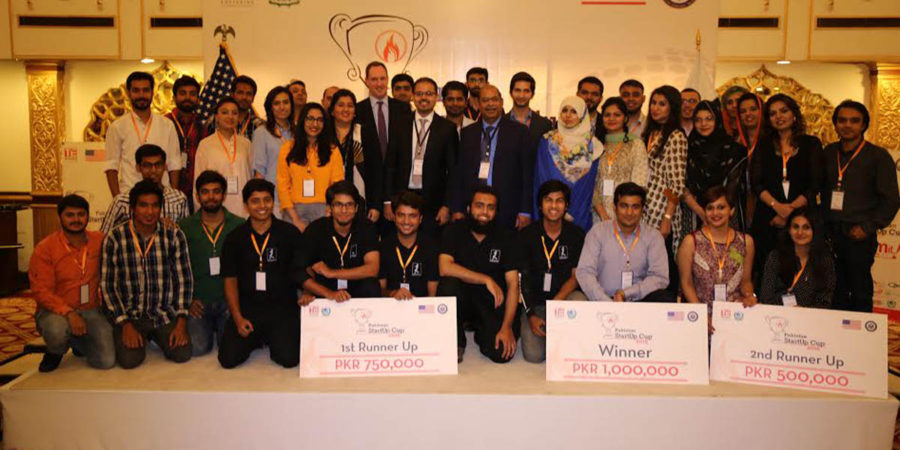 ISLAMABAD, SEPT 06 (DNA) – – The U.S. Embassy in Islamabad and The Indus Entrepreneurs (TiE) Islamabad Chapter concluded the 2016 Pakistan StartUp Cup, a nationwide business model competition.
Over the past six months, more than 950 teams from Lahore, Karachi, Faisalabad, and Islamabad competed for a top prize of 1 million rupees. The winning team, "Cowlar," hailing from Islamabad, developed a startup plan to sell smart collars for cows designed to help farmers improve herd health, optimize dairy operations, and boost milk yields and so theirs business.
U.S. Embassy Deputy Chief of Mission Jonathan Pratt congratulated the members of the top 12 teams and encouraged them to continue pursuing their startup dreams beyond the conclusion of this business competition. "As President Obama said, 'I believe that entrepreneurs like you can make the world a better place, one idea at a time,'" Pratt commented.
"Tonight, we've seen that Pakistani women and men are doing just that, by developing plans to help farmers optimize their operations, to provide affordable clean drinking water, and to create prosthetic devices for amputees."
The 2016 StartUp Cup in Pakistan built on the success of the 2013 and 2015 competitions and continued to strengthen partnerships with the Higher Education Commission and entrepreneurship centers across Pakistan, including the Women's Entrepreneurial Center of Resources, Education, Access, and Training for Economic Empowerment (WECREATE) in Islamabad, the Lahore University for Management Science Center for Entrepreneurship, Lahore-based government-supported incubator Plan 9, Karachi-based technology incubator "The Nest I/O," and the National University of Sciences and Technology (NUST) Technology Incubation Center.
The partnerships between StartUp Cup and these centers will ensure that newly established businesses receive sustained support, mentoring, and essential tools for long-term success. Various U.S. Embassy programs assist Pakistani entrepreneurs by increasing their access to financial resources, supporting opportunities for entrepreneurship education, and nurturing an entrepreneurial culture.
"I wish all the bright minds we saw here the very best on the road ahead," said TiE Islamabad President Sarah Hashwani. "TiE Islamabad is both proud and humbled to be a part of this revolution in Pakistan's entrepreneurial landscape."=DNA
===================