'Reference against Imran will achieve its end results'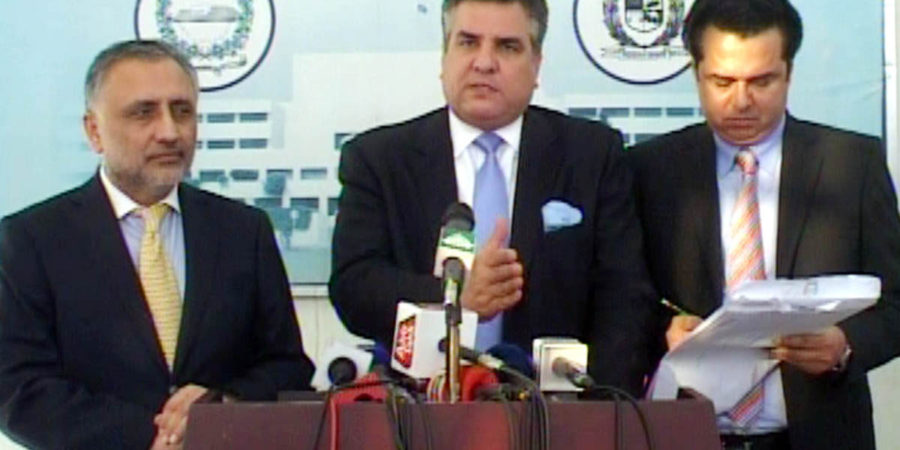 ISLAMABAD, September 06 (DNA): While talking to media outside the Parliament House, PML (N) leader Daniyal Aziz said the reference filed against the premier had no links with Panama Papers whatsoever and that it was filed based upon a news story.
Daniyal Aziz declared that the name of Prime Minister Nawaz Sharif was nowhere to found in Panama Leaks. "There is not even a single trace of evidence against the Premier in the reference," he said.
Daniyal Aziz explained that merely attaching a passport size picture and declaring that the person is guilty didn't tantamount to evidence. He gave out a message that all those who were commenting on the reference should first have a look for better understanding.
He also revealed that they also lied to the nation on the story of '35 punctures' and upon demanding evidence, they ran away. He also told that Islamabad was also under their siege once.
PML (N) leader Tallal Chaudry also talked to media and announced that the credit for normalizing the situation in Karachi goes to Nawaz Sharif. He gave out a message to all those who instead were taking credit for the present situation that they should remember their friendship with MQM as they had to take permission for their rallies in Karachi from MQM.
He also told that since Imran was caught in the act, that is why his tantrums were also expected meanwhile. He vowed to take the reference against Imran to its final end. Tallal alleged Imran for swearing against verdicts that came against him while at the same time; appreciating all the decisions that came in his favor.
Tallal Chaudry lashed out at Sheikh Rasheed by pronouncing him as a 'political dwarf' and that he was challenging Nawaz Sharif to make his stature high. He also said that Sheikh Rasheed's dual standards both in and out of the house revealed his personality.
Barrister Zafarullah and Special Assistant to the Prime Minister for Law also talked on the occasion by declaring that Imran Khan did not say even a single word about Niazi Service until 2015; on the contrary, the first application for this service was submitted in 1993.
They also declared that Imran declared a flat worth Rs. 2,000,000 under tax amnesty scheme introduced by Pervez Musharraf. According to them, Imran declared the flat at lower price for tax evasion purposes.
Zafarullah further told media that the land for Bani Gala was purchased followed by flats in London and the onus is now on Imran to declare the sources regards to this matter. He also revealed that Jemima disowned Bani Gala's land in her declaration. "Imran is making false statements regards to the ownership of Bani Gala," he said. DNA