PPP takes out rally to honour Karsaz martyrs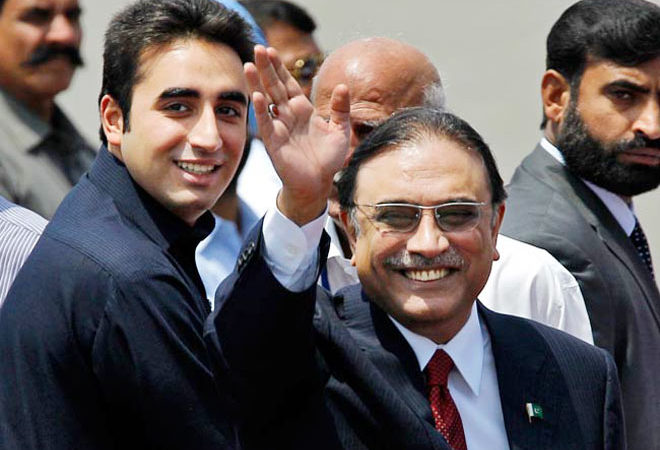 KARACHI, Oct 16 (DNA) – The Pakistan People's Party (PPP) has taken out what it says will be a historic rally in Karachi today to honour the martyrs of Karsaz, who were killed in a bomb attack on slain prime minister Benazir Bhutto's homecoming rally nine years ago.
 The 'Salam Shuhuda' rally is being led by party chairman Bilawal Bhutto Zardari, who has mounted a special bomb-proof truck and is guarded by 'Jaanisaran-e-Benazir Bhutto (Benazir Bhutto's loyalists)'. Other leaders of the party are also part of the rally.
 Addressing the rally at Bilawal chowrangi, the PPP chairman paid tribute to Shaheed Benazir Bhutto and the victims of the Karsaz bomb attack. He said Shaheed Benazir Bhutto wanted to free the public from sectarianism and dreamed of a Pakistan free from terrorism, poverty, unemployment and racial hate.
 "Benazir Bhutto came to Pakistan as ray of hope for the public," Bilawal said, adding that the 18th October attack was an attack on people's hopes.
 He hailed Karachi as the heart beat of Pakistan, calling it the "Koh-i-noor" in Sindh's crown. He said he has brought change in Sindh and is bringing changes in the party.
 "We will change Pakistan if the public supports us," Bilawal said to his audience.
 The rally started from Bilawal House roundabaout near Clifton, where Bilawal Bhutto addressed the party workers and supporters.
 The 'Salam Shuhuda' rally will reach Lee Market, making its way through Boat Basin, Maulvi Tameezuddin Road, Jinnah Bridge, Kharadar Jamatkhana and Kakri Ground. Bilawal would address his supporters from Lyari upon reaching Lea Market.
 After that, the congregation will pass through the Ranchor Line to reach MA Jinnah Road near Saeed Manzil, from where it will go to the Mazar-e-Quaid.
 From Mazar-e-Quaid, the PPP caravan will head forth to Karsaz all the way through Khudad Colony, Shahrah-e-Quaideen and Shahrah-e-Faisal. The PPP chairman will deliver his final speech there to pay homage to the victims of the Karsaz tragedy.=DNA
=============