No more discretionary funds in KP: Imran Khan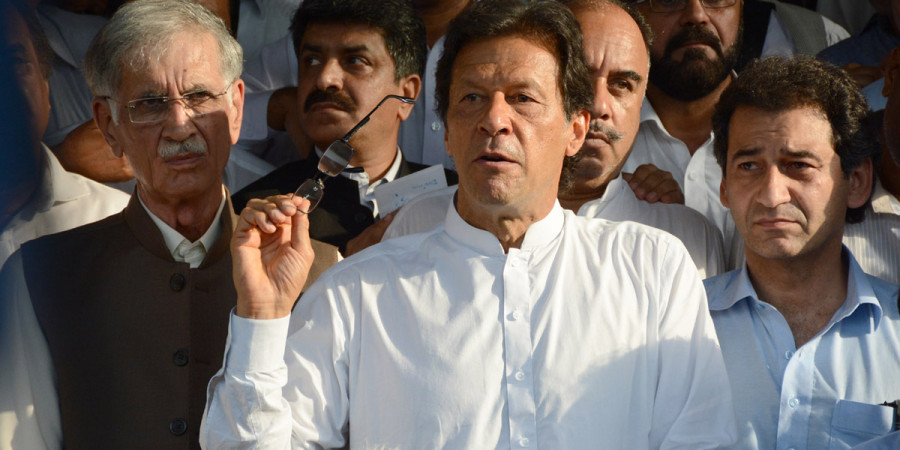 ISLAMABAD, 25 JULY (DNA) – Pakistan Tehreek-e-Insaf (PTI) Chairman Imran Khan on Monday presented a 13-point agenda regarding prosperity in Khyber Pakhtunkhwa (KP) and made announcements regarding certain changes in the local government as well.
While addressing a press conference, Khan said that the changes introduced in KP shall be the ones which had never taken place in any province before. He announced that all discretionary funds in KP were being put to an end, adding that there shall be no more discretionary funds in KP from now onwards.
Khan stated that people in the past were bribed in the form of discretionary funds, further stating that it was the responsibility of a Member of Provincial Assembly (MPA) to do legislation. "MPAs should focus on law making," Khan said, further adding that developmental funds shall not be used for political purposes.
PTI Chairman said that developmental funds shall not be given to MPAs but shall be allotted to local body representatives. He said that the provincial government shall provide funds worth Rs 33 billion to local body representatives who shall be responsible for spending them.
"KP's local government system shall be exemplary for other provinces," he said. Imran Khan said that a new accountability law shall also be presented in the provincial assembly, adding that the accountability cell shall be made more empowered than ever. He said that guest rooms shall be made in the Chief Minister's House for large taxpayers and investors.
PTI Chairman said that the provincial government faced hindrances in bringing reforms in the system in KP, adding that since the party had come to rule for the first time, it faced quite some challenges. He stated that KP CM Pervaiz Khattak's government strengthened the institutions. Khan said that KP's police was made apolitical, adding that no one intruded in the working of the police now on.
Khan stated corruption in Khyber Pakhtunkhwa was the least as compared to that in other provinces, according to the Pakistan Institute of Legislative Development and Transparency (PILDAT) survey. He said that systems of hospitals in KP was being changed, adding that exemplary hospitals were now being constructed in the province. He also said that KP was making the most investments in schools as compared to other provinces.
Khan condemned violence carried out on media personnel outside the office of the National Accountability Bureau (NAB) in Islamabad, adding that party leader Naeemul Haque was given the task of identifying those behind the incident. He also announced that a reward of 25% shall be given to anyone who would point out corruption being done in the province, further stating that investors and taxpayers shall be given benefits.
Imran Khan said that the impression was being given that terrorism in the country was on the rise as a result of the Afghan immigrants in Pakistan, further stating that a committee was formed under the leadership of Rustam Shah Mohmand to deal with the matters related to the immigrants from Afghanistan. PTI Chairman said that the Afghan immigrants were present in the country as guests and should not be subjected to any abuse. DNA