Sartaj meets Chinese FM to discuss bilateral relations, regional developments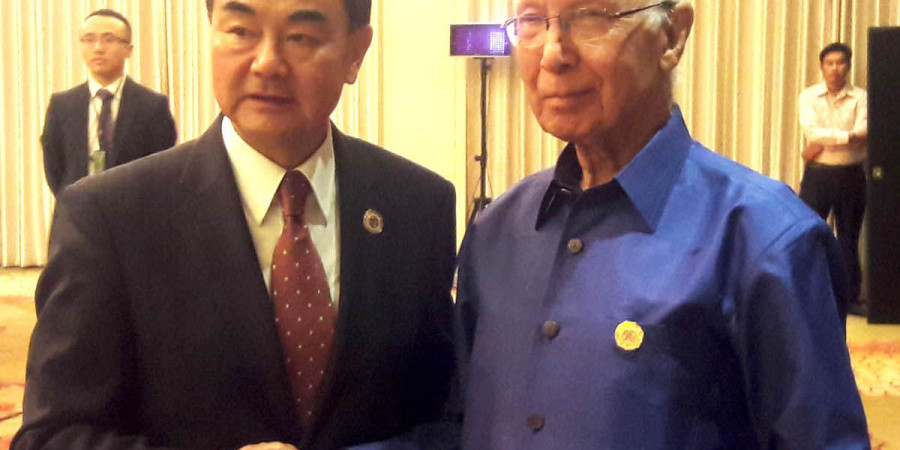 VIENTIANE, 25 JULY, (DNA) – Pakistan and China have emphasized the importance of reconciliation between the Afghan Government and Taliban as an essential element for peace and stability of Afghanistan. In this context, the Chinese Foreign Minister appreciated the sincere counter-terrorism efforts by Pakistan, noting that Pakistan's role against terrorism and for regional stability should be recognized.
These views were expressed in a meeting between Adviser Mr Sartaj Aziz and Foreign Minister Mr. Wang Yi, held today [Monday] on the sidelines of the 23rd ASEAN Regional Forum (ARF) meeting in Vientiane, Laos People's Democratic Republic (PDR).
In the bilateral context, both the Ministers expressed satisfaction at the rapid growth in bilateral trade, which reached US$ 18 billion last year, making China the largest trading partner of Pakistan. Mr. Wang Yi stated that while negotiating the second phase of FTA between the two countries, efforts would be made to increase exports from Pakistan to rectify the trade imbalance.
Mr. Sartaj Aziz said that Pakistan is fully committed to the timely and effective implementation of all projects under the China-Pakistan Economic Corridor (CPEC). Mr. Wang Yi termed CPEC as flagship project under the One Belt One Road initiative. In this context, it would be possible for Western China to start using Gwadar Port very soon for its regional and international trade. He acknowledged steps taken by Pakistani government for protection of Chinese experts and workers, particularly the Special Security Division raised for the purpose.
The two Ministers also agreed to renew and broaden the scope of the Bilateral Cultural Agreement, which had expired in December 2015.
The two sides also discussed cooperation in multilateral forums, including Pakistan's application for membership of the Nuclear Suppliers Group.
Both Mr. Sartaj Aziz and Mr. Wang Yi are leading respective delegations for the two day meeting of the ARF in Ventiane,  Lao PDR. =DNA
==========