Nisar rules out spy agencies' presence in Islamabad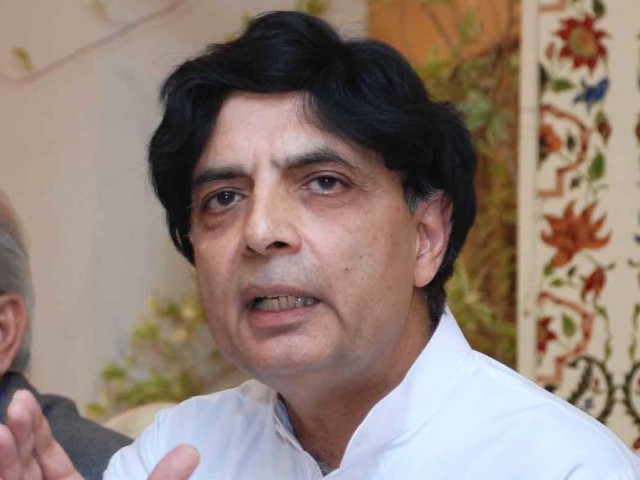 ISLAMABAD, 17 DEC (DNA) – Federal Interior Minister Chaudhary Nisar Ali Khan on Thursday ruled out presence of Blackwater or any other foreign intelligence agency in the federal capital of Pakistan.
Sharing performance of two and half years of the Ministry of Interior and Narcotics Control, he told the National Assembly members that all foreign spy agencies have been banned from operating in the country and there was no presence of Blackwater in Pakistan anymore.
The minister said terrorists were on the run as a result of massive interaction among his ministry, law enforcement agencies, provincial governments and the military.
Chaudhry Nisar said the state institutions should remain vigilant as the war on terror had not finished yet. However, terrorists have been marginalised after the launch of National Action Plan (NAP), he added.
He said the ministry of interior, during this period, did a lot of work and shared more than 2,500 intelligence reports with the law enforcement agencies and provincial governments, adding that more than 900 information excerpts were shared resulting into intelligence based operation (IBOs) against the extremists and terrorists.
Nisar said the interior ministry was in coordination with the provincial governments and this collaboration has resulted in improved law and order situation. He said the frequency of bomb blasts have also declined considerably as there was no occurrence of such incidents on daily basis anymore.
The minister said a joint intelligence directorate would be set up within a period of three months and funds have already been allocated for the purpose. "This would help further improve the intelligence sharing and subsequently will help eliminate menace of terrorism from the country," he added.
On the issue of corruption, the minister said that his ministry has taken several measures to curb corruption in all attached departments and organisations of the Interior Ministry He said several employees of National Database Registration Authority (NADRA), Passport Offices Federal Investigation Agency (FIA) and Police have not only suspended from services but have been arrested and sent to jail for malpractices.
Chaudhry Nisar Ali Khan said strict action has been taken to curb corruption in the Ministry of Interior. He said thousands of officials of civil armed forces have been withdrawn from VVIP security and placed to protect lives of the common citizens. The minister said online passport facility would be introduced soon. Initially the scheme would be introduced in a few cities and later would be extended to other areas, he added.  DNA