NEP, Action Plan 2023 give roadmap for drastic measures to conserve energy: MD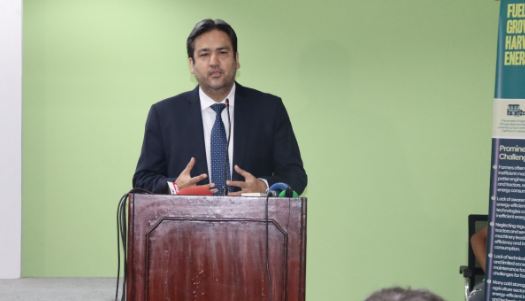 Staff Reporter
ISLAMABAD, JUL 17 /DNA/ – Pakistan can save up to PKR $6.4 billion by adopting behavioural and structural changes with regard to energy conservation. The National Energy Efficiency & Conservation Authority (NEECA) has prepared a roadmap for this huge task to be accomplished with support and cooperation of the stakeholders, ministries, corporate partners, foreign donors, provincial government and the relevant entities.
These views were expressed by Managing Director (MD) of the NEECA Dr Sardar Mohazzam on Monday while sharing with the media the contours of the National Energy Efficiency & Conservation (NEEC) Policy 2023 and the National Action Plan 2023 recently approved by the Federal Cabinet.
The NEEC presently deals with four key areas namely, power sector (energy & gas), building codes, transport and agriculture, said MD NEECA who gave a detailed point by point overview in these particular areas and informs the audience while preparing the policy input was taken from all the stakeholders, foreign donors, experts from public and private sectors.
The world, said Dr Mohazzam, was increasingly adopting energy efficiency and conservation as top priority and Pakistan would have to ultimately adopt it sooner rather than later. Energy conservation, he said, not only reduced burden on exchequer, it also supported climate mitigation and adaptation. Above all, it is consumer-friendly and can relieve burden of exorbitant utility bills on the masses.
NEECA under the leadership of Prof Ahsan Iqbal and Shahid Khaqan Abbasi worked on war-footing to prepare the draft policy and after that within one month a national action plan was adopted and approved by the Cabinet, he said. the NAP enabled us to approach donors, he said.
Director of the NEECA Fasih Haider through a presentation briefed the media about the salient features of the NEEC Policy and the Action Plan.
The NEEC Policy 2023 he said had some salient regulatory features, including ensuring compliance with minimum energy performance standards and labeling regimes for electric (Fans, Air Conditioners, Refrigerators, Motors, LEDs) and gas appliances (Geysers, space heaters, cook stoves), equipment, and products. It also mandates energy conservation building codes, mandatory energy audits for facilities and business operations of designated consumers, accreditation of testing laboratories, and the development of industrial assessment centers in collaboration with universities in the industrial hubs of the country.
Other features of the policy include the mandatory procurement of energy-efficient equipment in all public procurements by incorporating Minimum Energy Performance Standards (MEPS) in PPRA rules, evaluation of energy-efficient appliances during basic load profiling for electricity or gas connection across commercial, household, industrial, agriculture sectors, ban on the manufacturing of inefficient lighting like incandescent bulbs, all kinds of high-intensity discharge and fluorescent lamps, and setting the energy standards and recommending preferential use of energy. Today, we stand humbled over the monumental achievement of NEEC Policy and NAP, he said adding a massive public campaign on social media, print and electronic would be launched so that public could be made well aware of it and then we would move towards implementation stage. He paid tributes to the leadership of PM Shehbaz Sharif for his support and encouragement in finalizing the policy and the plan. Besides, the NEEC Policy 2023 provides for concessional financing facilities to retrofit existing buildings, appliances, and industrial facilities with a goal to shorten the payback times and encourage investments in the EE&C.