Malaysia's trade ties with Pakistan encouraging: envoy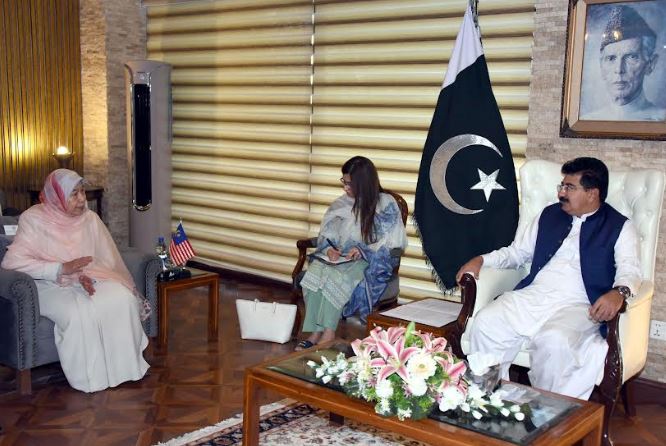 Malaysian Minister of Plantation Industries and Commodities, Datuk Hajah Zuraida Kamaruddin's Pakistan visit was very successful
Staff Report
ISLAMABAD: The Malaysian High Commission is cognizant of the important role played by all the Chamber of Commerce and Industries in promoting and strengthening the existing close bilateral trade and economic relations between Malaysia and Pakistan.
Malaysia attaches great importance to its bilateral relations with Pakistan. The long-standing bilateral relations and close cooperation between our two brotherly countries have covered various areas in trade, investment, education, tourism, culture, defence and technical assistance on human capital development.
Malaysia's trade relations with Pakistan have been encouraging. In 2021, the bilateral trade between Malaysia and Pakistan has grown to 36.3% compared to previous year. Total trade between Malaysia and Pakistan worth USD 1.901 billion in 2021. And in the first two months (January-February) 2022, the increase is recorded at 41% compared to the same period in 2021. 8.
A majority of his total trade volume is contributed by the export of Palm Oil and Palm Oil Based Agriculture products from Malaysia which contributed 51.9% share of this total volume. Notwithstanding this, there is huge potential for further development and expansion of economic and trade activities between our two brotherly countries. 10. Apart from Palm Oil, Malaysia also supplies rubber based products such as Seismic Rubber Bearings and High Damping Natural Rubber (HDNR) bearings for use in building earthquake resistant buildings. Another rubber product that Malaysia can sell is the Rubberized Road Technology which is more durable than conventional road surfaces with better skid resistance and low maintenance cost. In addition, my country is famous for other agri commodity products such as pepper and cocoa. These commodities are highly sought after as it is commonly used in food preparation and we produces enough capacity to meet the consumer demand.
It may be mentioned here that the Malaysian Minister of Plantation Industries and Commodities, Datuk Hajah Zuraida Kamaruddin is on a working visit to Islamic Republic of Pakistan from 30th March 2022 to 1st April 2022.The purpose of the visit is to strengthen agricultural commodities trade relation between Malaysia and Pakistan as well promoting Malaysian main agricultural commodities namely palm oil, rubber, timber, pepper, cocoa and kenaf.
Pakistan have been specially identified by the Minister as an important country to visit as both two countries share common values and culture thus offer much room for expansion, especially in trade. Pakistan is also one of Malaysia's largest trading partners in agri-commodities and Malaysia has number of joint-venture projects particularly in palm oil industry at Port Qasim. Malaysia values Pakistan's support and friendship and believes more should be done to increase trade activities between the two countries.
Therefore, the Minister views this special roundtable session with Islamabad and Rawalpindi Chamber of Commerce, as a relevant avenue to disseminate the latest information about Malaysian commodities among the industry players. The Minister urged the Chamber members to consider doing more business and joint venture with Malaysia particularly in the development of downstream products such as in oleo-chemical industry, natural rubber seismic bearing, rubberized road, timber doors, floor panels, wooden door, premium chocolate and pepper. The Minister also invited Chamber members present to participate in the Malaysia International Agricommodity Expo and Summit (MIACES) on 26th -28th July 2022 in Kuala Lumpur.
Prior to the meeting with the Islamabad and Rawalpindi Chamber of Commerce, the Minister met with the Abdul Razak Dawood, Adviser of Commerce and Investment to the Prime Minister of Pakistan and the Ayub Afridi, Adviser of Overseas Pakistanis and Human Resource Development to the Prime Minister of Pakistan, on two separate occasions to discuss ways to expand Malaysia's agri-commodity market share in Pakistan, possible collaboration in research and development for agri commodity sector and possibility of recruiting Pakistan workers to work in Malaysian's palm oil plantation
Other than discussions with Pakistan's ministers, Datuk Hajah Zuraida Kamaruddin also met with Pakistan-Malaysia Business Counci lin Karachi and witnessed the signing of a Memorandum of Understanding between All Pakistan Timber Traders Association and Malaysia Timber council
Pakistan has been an important and strategic trade partner for Malaysian agri commodity products, with a total export value of RM3.31 billion in 2021. Malaysia's main agri-commodity exports to Pakistan are palm oil (RM2.92 billion), rubber (RM253.90 million) and timber products (RM82.44 million). Total export of Malaysian palm oil and palm oil products to Pakistan valued at RM2.92 billion and 830,833 in tonnage. This figure representing 88.3% of total Malaysia agri commodities product exported to Pakistan.