Malaysian military leaders praise Pakistan anti-terror fight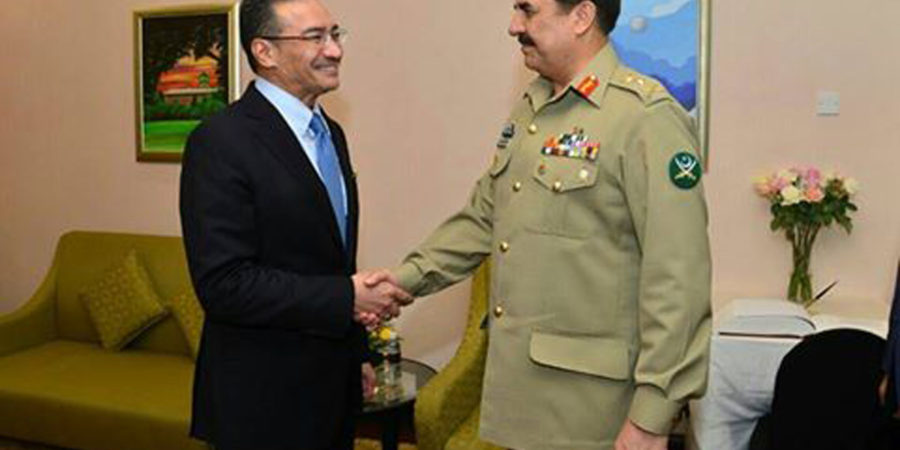 KUALA LUMPUR, AUGUST 17 (DNA): Chief of Army Staff General Raheel Sharif Wednesday arrived Malaysia on a two days official visit.
A smartly turned out contingent of Malaysian Army presented guard of honour to COAS on arrival at Army Headquarters.
COAS held separate meetings with General Tan Sri Dato Sri Haji Zulkifeli bin Mohd Zin, Chief of Defence Forces (CDF), and Chief of Malaysian Army General Tan Sri Raja Mohamed Affandi bin Raja Mohamed Noor.
He was introduced to senior Army commanders and was given detailed briefing on Operational and training aspects of Malaysian Army. During his meetings with the military leadership, military to military relations, joint military training and defence collaboration were discussed.
Malaysian CDF and Army Chief praised Pakistan Army's achievements in fight against terrorism and efforts for regional peace and stability. General Raheel Sharif said that Malaysia and Pakistan had convergence of interests in various domains of regional security and the need to go after terrorism indiscriminately.
Later Terms of Reference were signed between the two militaries to institutionalise a long term frame work for military cooperation.
Later COAS also met Minister of Defence, Dato Seri Hishammuddin Tun Hussein at Putrajaya. During the meeting, Malaysian Defence Minister expressed his desire to expand the range of defence collaboration, mutually benefitting from each other's experience and professional skills.
He reiterated that the spirit of cooperation will be helpful in strengthening the existing relationship between the two armies evolving into a long term strategic partnership. =DNA
========