Govt to involve private sector in Green Pakistan Program: Zahid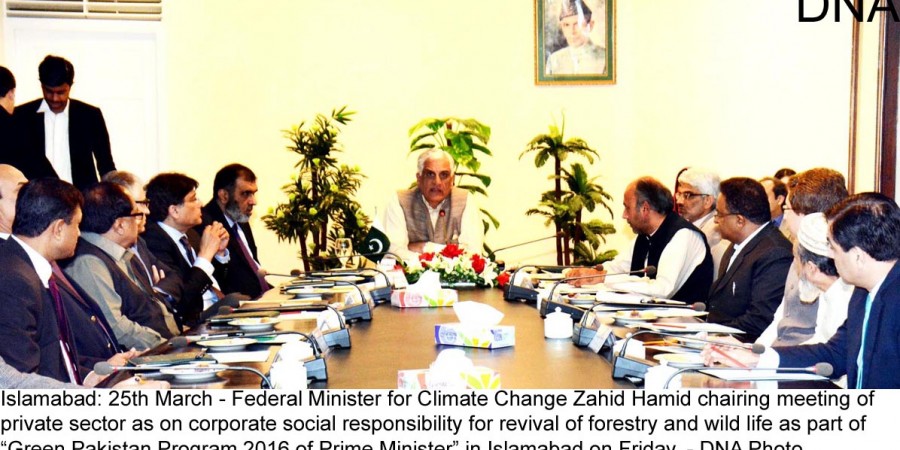 ISLAMABAD, 25 MAR (DNA) – A meeting was called at Ministry of Climate Change inviting private sector to engage in the Prime Minister's Green Pakistan Program.  The participants' involved representatives from different banks, telecommunication sector and other corporate organizations
"We have to keep environment and Climate Change as center of corporate social responsibility .The healthy environment can promise only healthy life", said by Federal Minister for Climate Change while chairing the meeting.
"We acknowledge the corporate social responsibility already showed by many private sector organizations. We will provide flexible choices to private sector to invest in environment.The ministry is ready to give technical assistance to private sector for the investment in forestry sector", emphasized by the Federal Minister for Climate Change.
"We need to accelerate our activities to protect our environment to show the world that we are least emitters and most affected country but still putting our efforts to combat climate change", highlighted by the Federal Minister for climate Change
"We have to make national road map involving private and public sector to launch collective efforts for our environment", told by the Minister. "Forest play an important role in poverty reduction and food security", said by Chief Forest Conservators of Sindh.
"We have management team but sustainability of forests is problem.We can adopt mechanisms of successful example of other countries in corporate social Responsibility sector", highlighted by the Chief Forest Conservator of Punjab.
He further added that we do not have obligatory policy to sustain forests through corporate social Responsibility. We can adopt three mecahnisms:1 .Develop Green Fund at Provincial level 2:We can prepare list of projects with cost which can be provided to sponsoring companies to choose project of their choice 3:Sponsoring companies can come up with the projects of their choice. He also suggested that we can establish consortium in each industry like banking and telecommunication
Many suggestions and ideas came from   the participants of the meeting. The representative of Ministry of Industry said that we should involve board of investment in this activity. The Representatives of Allied Bank suggested we should be specified and allotted particular places for plantation to banking sector.
The representative of Zong Regulatory authority said that we need policy guidelines to follow. "We are already financing nurseries .It takes 100 years to mature a tree. We need to take action against deforestation", said by representatives of HBL.
It was decided at the end of meeting that details of areas to be forested will be obtained from federating units and would be shared with private sector .They would be able to choose area of their choice for forestry development.DNA