Blast outside Afghan ministry kills 5, wounds several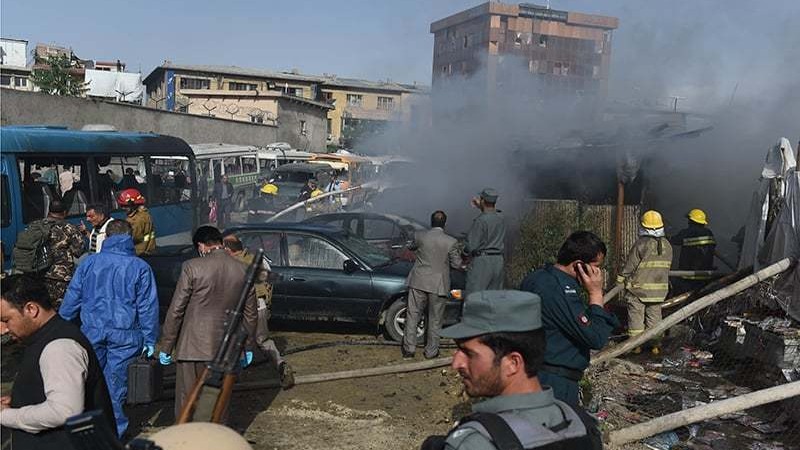 KABUL: A bomb exploded in the parking lot of Afghanistan's Ministry of Justice on Tuesday, killing at least five people and wounding dozens as civil servants were leaving work for the day, officials said.
The Taliban claimed responsibility for the attack and vowed to kill more "slave" judges. Taliban spokesman Zabihullah Mujahid made the statement in an email to journalists a few hours after the car bomb exploded.
Ministry of Interior spokesman Sediq Sediqqi confirmed the deaths of five by telephone, while Mohammad Ismail Kawusi, a spokesman for the Ministry of Public Health, said 42 wounded people had been admitted to three hospitals in Kabul. He said the number could climb.
This is the fifth major attack in Kabul in just over two weeks, and the third to target employees of the justice system, coinciding with the Afghan Taliban's spring offensive, "Operation Azm", across the country.
Sirens could be heard in the minutes after the blast as rescuers and police rushed to the scene.
"We only can confirm that there was an explosion in the Ministry of Justice parking area," Ebadullah Karimi, a spokesman for Kabul police chief, told media.
Another police official said a car packed with explosives detonated late in the afternoon but had no other information.
The huge explosion sent a plume of black smoke billowing above the city and was strong enough to rattle windows several kilometres away in Kabul's diplomatic district.
No one immediately claimed the bombing, but the Taliban have already attacked employees of Afghanistan's justice system this month, twice slamming car bombs into buses carrying employees of the attorney general's office.