FIA takes records, officials of Axact into custody during a raid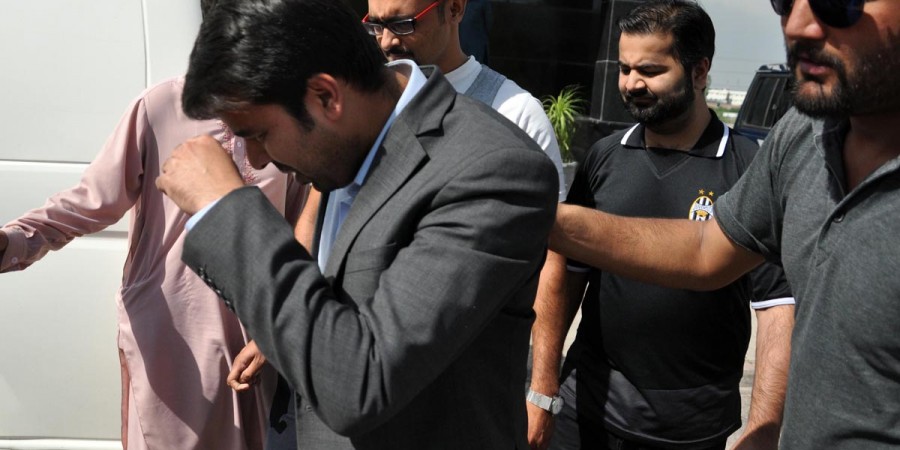 ISLAMABAD: A team of the Federal Investigation Agency's cyber crime unit entered local IT company Axact's Islamabad and Karachi offices on Tuesday and collected manuals, records and computers as evidence in the ongoing investigation of a global fake degrees scam.'
FIA Deputy Director Tahir Tanveer saidn that the Axact offices in twin cities of Islamabad and Rawalpindi have been sealed and that around 22 employees of the IT Company were taken into custody by the Islamabad investigating team.
Meanwhile, a team of the FIA's corporate crime unit also visited Axact's Karachi offices and questioned their employees,  said FIA sources.
No one has been arrested or taken into custody at the Karachi office as yet, they added. Employees, particularly IT employees, were not allowed to leave the office premises during the investigations.
FIA officers swooped on the Karachi headquarters of the company, seizing equipment and records and expelling employees from the building, a member of the raiding party told on the condition of anonymity.
Earlier, action against Axact kicked off after Federal Interior Minister Chaudhry Nisar Ali Khan ordered an inquiry into a story published by The New York Times that claimed the company was issuing fake degrees as part of a massive, global scam.
An interior ministry spokesman said Nisar had directed the FIA to submit a report after a thorough investigation.
The minister in his directive also said that the FIA was to determine whether the contents of the NYT story were true and whether the company was involved in any illegal business which may bring a "bad name" to Pakistan.
The detailed NYT report titled "Fake Diplomas, Real Cash: Pakistani Company Axact Reaps Millions" and written by New York Times Pakistan bureau chief Declan Walsh outlined how Axact — referred to as a "secretive Pakistani software company" — allegedly earned millions of dollars from scams involving fake degrees, non-existent online universities and manipulation of customers.
According to the report, Axact created a series of fake websites involving "professors" and students who it said were in fact paid actors.
An FIA official who did not wish to be named said that the allegations raised by the newspaper if proven true would be punishable by seven years in prison under Pakistan's Electronic Transaction Ordinance. =DNA
==============