Uzbekistan-Germany: Cooperation Pursues a Long-Term Perspective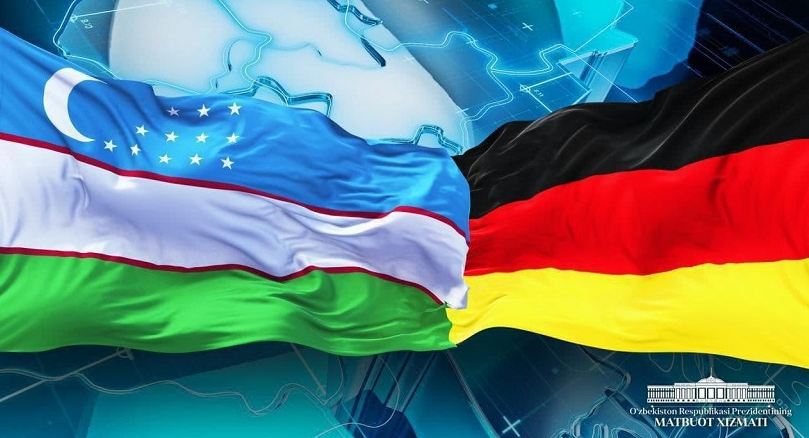 Germany, one of the world's leading powers and a confident leader in various sectors and spheres of the global economy, is Uzbekistan's reliable and time-tested partner in Europe.
The first official visit of the President of Uzbekistan Shavkat Mirziyoyev to Germany on January 20-22, 2019, as well as the return visit of the Federal President of the Federal Republic of Germany Frank-Walter Steinmeier to Uzbekistan on May 27-29 the same year have given a powerful impetus to the further development of bilateral partnership.
On March 12, 2021, the President of Uzbekistan Shavkat Mirziyoyev and the Chancellor of the Federal Republic of Germany Angela Merkel held an online summit during which they exchanged views on implementation of the agreements reached at the highest level, as well as on the current international agenda and interaction within global and regional structures.
Today, the partnership between the two countries is multifaceted, covering trade, economic, investment and technological areas. The two nations have worked out fruitful cooperation in security, human rights protection, environment protection, science and education, expansion of cultural ties and tourism exchange.
Uzbekistan's constructive cooperation with the Federal Republic of Germany on issues of global and regional agenda has also been realized in multilateral formats – within the United Nations, OSCE and other agencies. Tashkent and Berlin hold similar or coinciding positions on many issues, including the fight against terrorism, organized crime, drug trafficking, and the situation in Afghanistan.
The Uzbekistan-Germany group for cooperation with the German Bundestag was set up in the Legislative Chamber of the Oliy Majlis in 2016. A parliamentary group "Germany – Central Asia" has been active in the German parliament since 1994.
The regular political consultations between the foreign ministries of Uzbekistan and Germany are an effective mechanism for discussing the current agenda of bilateral relations.
For many years, the Konrad Adenauer and Friedrich Ebert foundations, the Foundation for International Legal Cooperation at the Ministry of Justice of Germany and the German Society for International Cooperation have been successfully cooperating with partner organizations in Uzbekistan and implementing relevant social and economic projects. The contacts are developing dynamically in the development of civil society, jurisprudence, judicial and legal issues, and information and communication technologies.
Germany actively supports our country's policy of strengthening relations of friendship, good-neighborliness, trust and partnership in Central Asia and promoting regional infrastructure projects in transport and energy to this end.
The indicators in the areas of trade and investment, where Germany has traditionally been our key partner, best illustrate the high level of cooperation between our countries.
Over the past five years, bilateral trade has increased by 24%. In 2022, growth in mutual trade exceeded 51%, while Uzbek exports to Germany rose by 21%.
Uzbekistan has 219 enterprises with German investments, including 97 individual enterprises. Among German companies represented in the Uzbek market are leading manufacturers "Deutsche Kabel", "Knauf", "Claas", "Papenburg" and "Falk Porsche". Cooperation with leading companies in their fields, such as "Siemens", "BASF", "Thissen Group", "Roland Berger", "Adidas Group" and others is carried out. The financial cooperation is established with leading German banks "Deutsche Bank", "Commerzbank" and "Landesbank".
The Intergovernmental Working Group on Trade and Investment and the German-Uzbek Business Council, established in 2015, are fully promoting trade, economic and investment cooperation.
For example, more than 100 representatives of leading German companies took part in the meeting of the German-Uzbek Business Council in Tashkent last July. According to its outcomes, the Roadmap for the implementation of investment projects totaling about 400 million euros was adopted.
On February 28, 2023, the Seventh Meeting of the Council was held in Berlin, which was attended by more than 60 representatives of leading German companies. It also resulted in the adoption of a roadmap for the implementation of the agreements reached.
Germany's increased support for political and socio-economic reforms in the Uzbekistan has also been evidenced by the growing volumes of financial and technical assistance provided in areas such as agriculture and water management, development of legal system, education, healthcare and trade.
In the backdrop of stepped-up Uzbek-German cooperation, our citizens' interest in studying the German language and education in Germany is growing. Today there are over 300,000 schoolchildren in Uzbekistan, and 19,000 students study the language of Goethe, Schiller and Kant. German is studied in depth at 24 schools, six of them are located in the cities of Tashkent, Samarkand, Margilan, Fergana, Andijan and Bukhara and have right to issue a German language diploma. More than 4 thousand students of Uzbek postgraduates and doctoral candidates study in various universities in Germany.
The German Foreign Minister Annalena Berbock visited Uzbekistan between October 31 and November 2, 2022, and held meeting with President Shavkat Mirziyoyev. During her visit, the German Federal Foreign Minister visited School No. 60, an educational institution with in-depth study of German. The school was named after German poet and thinker Johann Wolfgang von Goethe in 2019.
Education is an important area of bilateral Uzbek-German cooperation. In 2021, in partnership with Munich Technical University, the New Uzbekistan University was established in Tashkent, and Professor Wolfgang A. Herrmann, Honorary Rector of Munich Technical University, became its Rector.
The Goethe Institute, the Institute for International Cooperation of the German Adult Education Association and the Central Agency for Schools Abroad operate successfully in Uzbekistan.
Tashkent-Berlin and Bukhara-Bonn partnerships have been established as part of active public diplomacy and interregional cooperation. Fruitful cultural and educational exchanges and sustainable development projects are carried out jointly.
Today there are about 6,500 ethnic Germans living in Uzbekistan, who cherish their national traditions and culture and maintain close ties with Germany. In Uzbekistan, citizens of German nationality are seen not only as an integral part of Uzbek society, but also as a linking bridge between the two states.
Given the experience of Germany in the field of ecology, interaction in the field of environmental protection is of particular interest to Uzbekistan. Combating the consequences of the Aral Sea crisis is an integral part of the partnership between our countries. In this context, the launch of specific environmental and social projects in the Aral Sea region within the framework of the German Foreign Office's "Green Central Asia" initiative is promising.
In general, the contemporary development of bilateral relations testifies to Germany's unwavering support for the new course of democratic transformation in Uzbekistan and the reaching of bilateral relations to a qualitatively new level, characterized by the parties' aspiration for mutually advantageous cooperation based on principles of mutual respect and interests of one another.
Against this backdrop, it has become obvious that the forthcoming top-level Uzbek-German summit is anticipated to raise the strategic partnership between our two nations to a qualitatively new level and facilitate joint determination of longer-run common directions of cooperation.
IA "Dunyo"