"They went to school and never came back" – nation remembers APS martyrs on second anniversary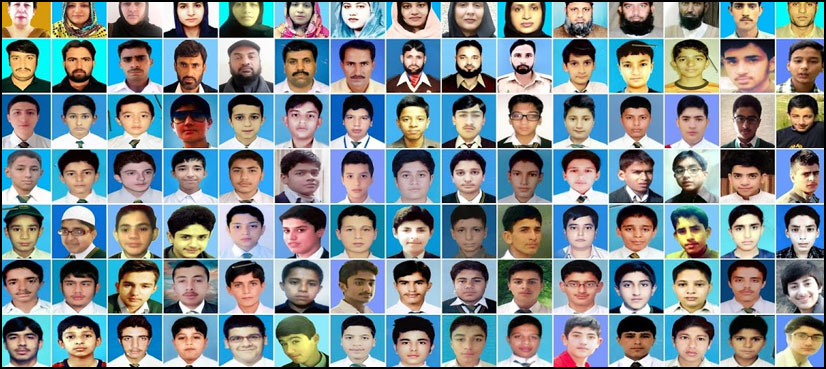 KARACHI, DEC 16, (DNA) –  The brazen militant attack on Army Public School, Peshawar, in December 2014 brings back haunted memories of the deadliest day that claimed over 150 innocent lives, mostly children, and nation remembers the martyrs in mourning on second anniversary of the attack.
More than 150 lives were lost in the Peshawar school massacre of December 16, 2014, the deadliest extremist attack in Pakistan's history.
Two year on, those who survived now study in the same rooms where they huddled in terror as their classmates fell around them.
Time has not healed the wounds of the parents who are still in shock over the death of their children whereas the survivors of the heinous attack have not yet forgotten the scenes which unfold before their eyes on the horrible day.
The country united the Pakistani nation and opened a new chapter in the fight against terrorism.
Spot where the attack took place – the auditorium – is now a sports hall and soldiers stand atop recently fortified walls as children play on the green, expansive grounds below.
APS ATTACK AND STERN CRACKDOWN ON MILITANTS
Last year, on first anniversary of the attack, Prime Minister Nawaz Sharif and then army chief Raheel Sharif joined opposition leader Imran Khan for a ceremony at the school marking the massacre.
The attack on the Army Public School saw a shift in public opinion on the country's more than decade long struggle against extremism.
Parents seeking vengeance backed by a shocked and outraged public drove support for a nationwide military-led crackdown.
The army intensified an offensive against militants in tribal areas where they had previously operated with impunity, and the government launched a sweeping plan to tackle extremism, including greater prosecution of hate crimes.=DNA
=================