Rangers were deployed at NAB court amid security threat: army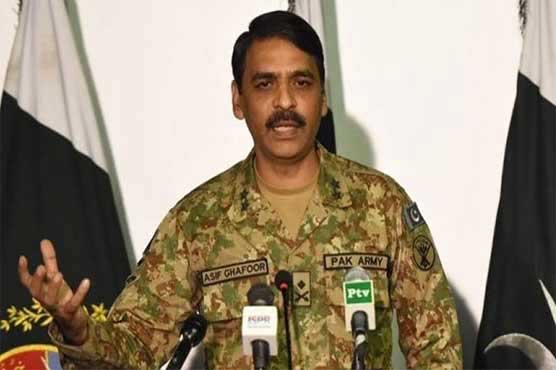 RAWALPINDI, OCT 05 (DNA) – Inter-Services Public Relations (ISPR) DG Major General Asif Ghafoor said on Thursday that there are no safe havens for terrorist organisations in Pakistan, adding that threats lye along the borders of the state.
Addressing to a press conference, he announced that the economic interests of the region are dependent on the country. Maj Gen Asif Ghafoor recalled that Pakistan made an alliance with the United States to fight war against Soviet Union and then held a four-year partnership to end terrorism.
He also revealed that Chief of Army Staff (COAS) General Qamar Javed Bajwa will soon visit Iran on an official tour.
ISPR DG pointed out that four rival agencies are planning terrorist attack of which the threat letter was shared with Foreign Office and if due cooperation is not ensured, 'reverse gear' could be applied owing to external pressure. "Indian aggression has reached a higher level. Pakistan will respond if war is waged," he added.
Corps Commanders Conference
Any declaration of Corps Commanders Conference was not issued and silence has its own language, he stressed while answering a question from media persons. He was asked why no declaration was issued by the army after 7-hour long conference.
On Rangers deployment at accountability court
When asked about the deployment of Rangers at accountability court during case proceedings against ex-PM Nawaz Sharif in corruption reference, he said that it is not compulsory for every order to be written. Asif Ghafoor told that Punjab Rangers were deployed at NAB court due to security threats. It should be recalled that Interior Minister Ahsan Iqbal had warned to resign while expressing resentment on Rangers deployment outside accountability court saying that he would not act as a puppet minister as the security forces under his command are acting on someone else's will.
Three wings of Rangers were requested constitutionally, adding that discussions of interference of Pakistan Army in politics are baseless. "The impression of martial law is wrong. Army is directed through law and constitution, and the first task of armed forces is to protect the country," he stressed. Army spokesperson said, "No institution, including Pak Army, is beyond the supremacy of Pakistan. Even Army Chief would ve been stopped by soldiers if he tried to enter without card."
Afghan security issue
Pakistan Army spokesperson highlighted that 50pc area of Afghanistan is out of their government's control which causes severe damage to the neighbouring country. "Deployment of forces along the western borders was made to counter terrorism," he told about the four-decade-long Afghan war.
Talking about the situation of terrorism in the country, he said a terror attack on Muharram was foiled in Karachi after timely information. He argued that Miranshah cricket match and upcoming hockey contest in Karachi have been organised to send positive message to the world. The nation should be proud of success achieved by security forces by establishing Rajgal border post after completion of Operation Khyber-IV, he said.
He lauded the efforts of army, intelligence and police to counter acts of terrorism. Highlighting the need for inter-institutional cooperation, he stressed the sacrifices made by the people of Pakistan and security forces.
Kulbhushan's appeal for mercy
ISPR DG revealed that COAS Bajwa received an appeal for mercy by convicted Indian spy and former RAW agent Kulbhushan Jadhav. He said that news regarding this matter will soon be shared.