President Alvi approves Justice Qazi Faez Isa's appointment as next CJP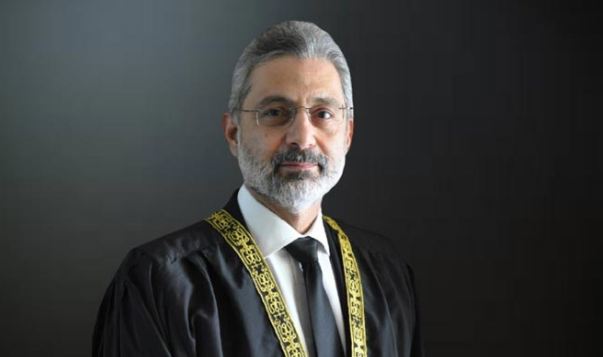 ISLAMABAD: President Arif Alvi Wednesday approved senior puisne judge Justice Qazi Faez Isa's appointment as the next chief justice of Pakistan.
The appointment will be effective from September 17, 2023, with the retirement of incumbent CJP Umar Atta Bandial on September 16, under Article 179 of the Constitution.
Later, the Ministry of Law and Justice issued a notification in confirmation of the appointment.
"In exercise of the powers conferred by clause (3) of Article 175 A read with Article 177 of the Constitution of the Islamic Republic of Pakistan, the President of the Islamic Republic of Pakistan is pleased to appoint Hon'ble Mr. Justice Qazi Faez Isa, the most Senior Judge of Supreme Court, as Chief Justice of Pakistan with effect from 17th September, 2023," the notification stated.
Justice Isa will become the 29th top judge of the country when he takes the oath as CJP on September 17. President Alvi will administer the oath to Justice Isa.
Justice Isa — a brief profile
Born on October 26, 1959, in Quetta, Justice Isa is the son of the late Qazi Mohammad Isa of Pishin, who was at the forefront of the Pakistan movement, and the grandson of Qazi Jalaluddin, who was the prime minister of Khanate of Kalat in the pre-partition India.
In his early years, Justice Isa was a part of the Bar of England and Wales in the 1980s and was enrolled as an advocate of the Supreme Court from Balochistan.
He has practiced law for over 27 years before all the high courts, the Federal Shariat Court and the SC.
Later, he also served as a member of the Balochistan High Court Bar Association, Sindh High Court Bar Association, and Life Member of the Supreme Court Bar Association, and chief justice of Balochistan during different periods.
When called upon by the high courts and the top court, the jurist rendered his services as amicus curiae and also conducted international arbitrations.
He is a strong advocate of adherence to the Constitution and the rule of law, which is reflected in his judgements.
The senior jurist is also the founder of a system of transparent induction of officials and officers in high courts via advertisement.
On September 5, 2014, Justice Isa took oath as a judge of the Supreme Court of Pakistan.