A century-old Sukkur Barrage 66 gates' modernization and rehabilitation started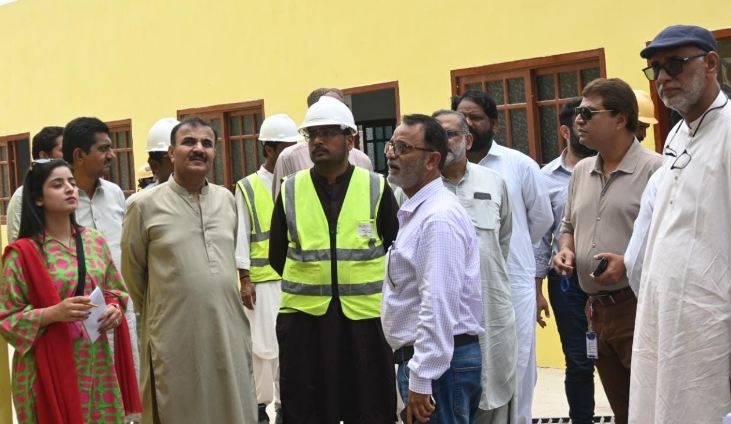 Sukkur Barrage structure rehabilitation and upgradation to fulfil agriculture development: Experts
Nazir H Siyal
KARACHI/SUKKUR: Following the World Bank-funded project, Sindh Barrages Improvement Project (SBIP) has started the modernization and rehabilitation of six main gates among 66 on River Indus in Sindh province.
Abdul Fatah Memon, Assistant Engineer Civil of Sindh Barrages Improvement Project at Sukkur Barrage told, national and international media observers and Journalists, while the delegation visit at Sukkur barrage, he added that an old Sukkur Barrage on the River Indus has 6 main gates have been completely changed among 66 and 10 gates are permanently closed due to the rising silt and due to the flow of water issues.
Memon, further told that the construction work was started during 1923 and completed in 1932 by the British government.
He said the 66 main gates on River Indus and it has seven canals four in the left and rest on the right side. He said these seven canals have around 55 small gates controlling and irrigates more than 88 lacs acres of agri-land of Sindh province.
The discharge capacity of each canal will be increased due to closure of 10 gates.
He further said that Sukkur Barrage is 90 years old enormous and historical construction with Landslide Bridge, that has completed its maturity (period).
Under the SBIP the modernization and rehabilitation was started to maintain since 2018, after flash floods and natural hazardous. The gate number 39 was slightly cracked which was also examined the experts and since six gates were changed by shipyard Karachi and engineering works he disclosed.
He said that under package S-1, the rehabilitation and upgradation of Sukkur Barrage was started through World Bank funding, it was awarded to China Road and Bridge company joint venture with Hubby Shinzo limited a Chinese Company and they started its work on the ground. He said that to rehabilitate and strengthen of main barrage structures and canal head regulators as well the changing of gates was prime task. He told the silt of up and down stream of Sukkur barrage will also be de-sited during the period.
Accoriding to AE, told that the Rice canal would be desilted under package number S-1, while the contract work was awarded in February 2023.
World Bank funded program under SBIP led by vibrant and struggling Provincial Management Office (PMO) Mr. Ghulam Muhiuddin Mughal and Task Team leader World Bank Mr. Francios Onimus.
They continued their visits and assured quality of work and completion.
As per details, the contractor camp/residence was already established at the site and Project Implementation Consultant (PIC) and Mott MacDonald Ltd with Mott MacDonald Pakistan (MMP).
AE Mr. Fatah Memon further told Guddu barrage gates are also changed under the bulk-head gates, while Sukkur Barrage gates will be changed through the construction of Kafr-dam.
On the occasion, the officials of irrigation and SBIP were among Feroze Ahmed Domki an XEN Sukkur Barrage, Nazir Ahmed Lashari, Resident Engineer of MMP Mott Mac Dnolad Pakistan at Sukkur Barrage, Saeed Ahmed Memon CIvil Engineer China Road Bridge Company (CRBC), Mumtaz Ghumro Assistant Engineer of Mechanical Sindh Barrages Improvement Project at PMO Project Management Office were also accompanied the delegation during visit at Sukkur Barrage.