Pak's positive improvement in CPI commendable: NAB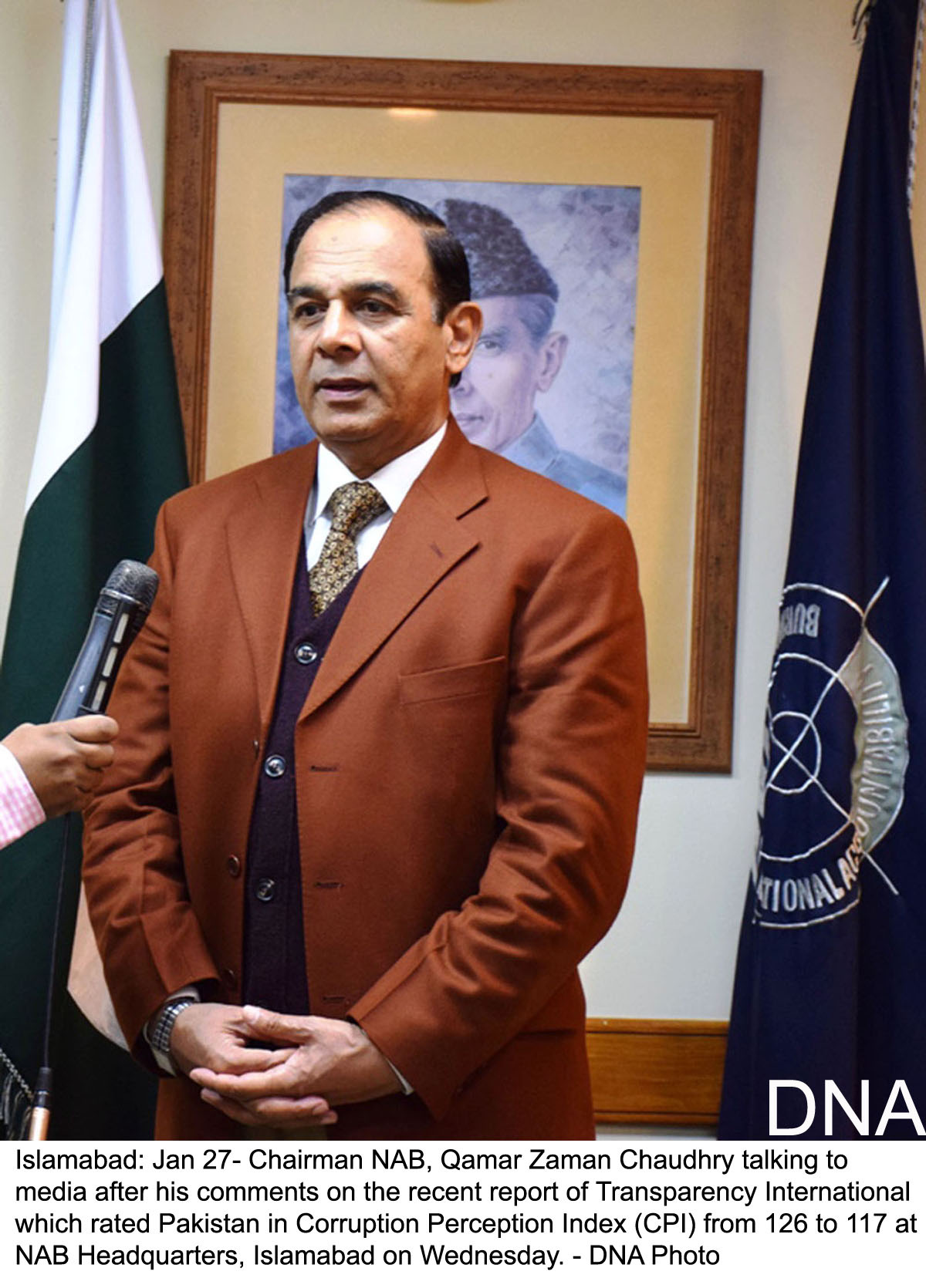 ISLAMABAD, 27 JAN (DNA) – Chairman, National Accountability Bureau (NAB), Qamar Zaman Chaudhry said that Pakistan's positive improvement in Corruption Perception Index (CPI) ranking proves that initiatives taken by NAB are showing practical results.
The CPI 2015 ranking of Pakistan in Transparency International (TI) report released has reached 117 from 126 and it would further strengthen our resolve as a nation against corruption and corrupt practices.The NAB has a firm commitment to eradicate corruption from the country across the board, he told APP.
He said it is quite satisfactory and a great achievement for the Bureau that Pakistan positively improved nine (09) points in CPI which is a result of hard work of NAB employees and other relevant institutions.
The Chairman elaborated that Pakistan has been given improved position in CPI as compared to other South Asia regional countries (SAARC) and added except Pakistan the ranking of other regional countries remained the same or dropped during the period.
Answering a question about steps and vigour behind this positive development, Qamar Zaman Ch. said corruption is an insidious plague that has a wide range of corrosive effects on societies. It undermines development and rule of law.
Awareness and prevention of corruption is a challenging task and as a Pakistanis it is our moral duty to play an active role for eradication of corruption from the country.
Considering these facts, he said NAB had chalked out a comprehensive National Anti©Corruption Strategy (NACS) for eradication of corruption and corrupt practices and recovered approximately Rs. 265.977 billion since its inception and deposited in national exchequer which is a great achievement.
The allocation to NAB for its operational work is Rs. 10.111 billion since its inception which is only 3.7% of recoveries made by NAB.
He said NAB has received 3,00,009 complaints since its inception and authorized 6662 and 3391 investigations. As regards, the corruption references filed in respective Accountability Courts is concerned, NAB has filed 2451 corruption references since its inception.
The Chairman said increase in the number of complaints also reflects enhanced public trusted in the NAB. He said to create awareness against the ill effects of corruption among the youth, NAB in collaboration with Higher Education Commission (HEC) signed a Memorandum of Understanding (MoU) as over 10000 Character Building Societies (CBSs) have been
established in universities, colleges and schools.
He especially mentioned Standard Operating Procedure (SOP) which has been devised to rationalize workload while timelines have been prescribed for efficient, effective and expeditious disposal of  cases putting a maximum limit of 10 months from complaint verification to inquiry to investigation and finally to a reference in Accountability Court.
Qamar Zaman Chaudhry, Chairman NAB has said in order to ensure uniformity and standardization, the Standard Operating Procedure (SOP) in vogue were revised after a gap of 10 years to make these responsive to needs of changed economic, social and technological realities along with goals and targets for smooth conduct of operational activities in accordance with law and to bring further improvements in the performance of NAB Regional Bureaus.
NAB Chief further elaborated that a Monitoring and Evaluation (M&E) System has been developed, catering needs of all concerned having salient features of maintenance of data at each stage including complaint entry, complaint verification, inquiry, investigation, prosecution stage and record preservation of Regional Board Meetings and Executive Board Meetings.
A centralized monitoring mechanism, he said, has also been devised to ensure compliance with the SOP's and prescribed timelines.
He said the Bureau has introduced concept of Combined Investigation Team (CIT) and Internal Accountability Mechanism (IAM)  while NAB and Securities and Exchange Commission of Pakistan (SECP) have decided to create a Joint Task Force to work expeditiously  on corruption cases referred by SECP to NAB.
The Bureau has established its first Forensic Science Lab (FSL).The Bureau has proposed Whistle Blowing Protection Act which is imperative for country under United Nations Convention Against Corruption (UNCAC).
The Prime Minister has approved Whistle Blower Protection Bill which will now be sent to Cabinet for further necessary action.
The Chairman said under its Awareness and Prevention Campaign, NAB has been engaging different governmental and Non-Governmental Organizations and civil society in fight against corruption and initiated Say No to Corruption drive.
Mr. Qamar Zaman, Chairman NAB said he believes in Zero Tolerance Policy against corruption and expressed the hope that joint efforts of all stakeholders against this menace would prove to be successful in making Pakistan a corruption free country. DNA