Pakistan High Commission Canada marks Kashmir Black Day.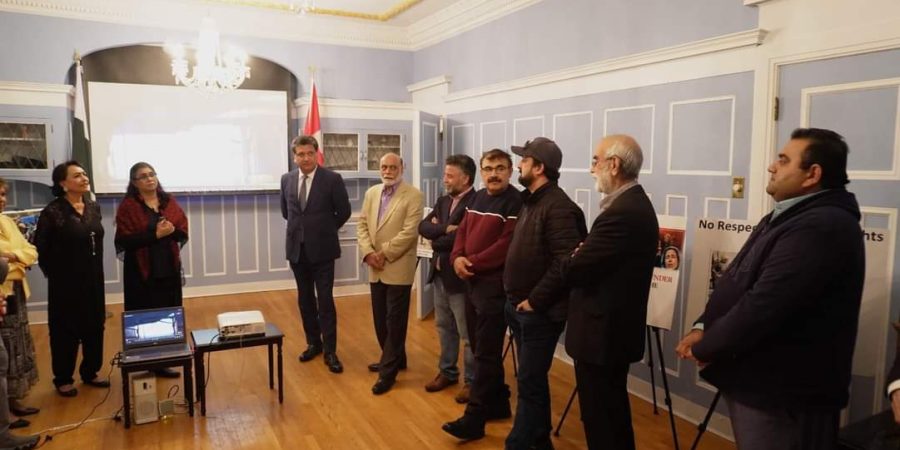 Ottawa: October 27, 2023
The Pakistan High Commission in Ottawa and the Consulates General in Montreal, Toronto and Vancouver observed "Kashmir Black Day" and organized Photographic Exhibitions on October 26, 2023, depicting atrocities of Indian occupation forces in Indian Illegally Occupied Jammu & Kashmir (IIOJK) which were attended by the members of the Pakistani community.
In a video message on the occasion of "Kashmir Black Day", High Commissioner Zaheer A. Janjua said, "we have come together to express our unflinching support and solidarity to Kashmiri brethren, who remain undeterred by the oppressive Indian occupation forces in their struggle for right to self- determination".
The High Commissioner reiterated that the brave struggle of Kashmiris for their right to self-determination has proven that India's brutality and military might can never suppress the Kashmiris. He underscored that the people of Kashmir have already chosen their path, and Pakistan will continue to extend moral, diplomatic, and political support to the indigenous and legitimate Kashmiri struggle for their right to self-determination.
The High Commissioner also highlighted the historical significance of October 27th when Indian forces entered in the valley against will of Kashmiris. He condemned the continued brutal use of force by the Indian Occupation Forces and Indian illegal steps taken since 5 August 2019 including imposition of strict curfew and complete lockdown of the valley of IIOJK. "It is imperative that the international community must come forward and demand India's compliance with its international obligations in line with UN Security Council's resolutions on Jammu and Kashmir", he added.
Members of Pakistani Community and Kashmiris held a protest/rally in Ottawa in front of Canadian Parliament, Montreal, Toronto, and Vancouver. Seminars/Webinar on the Kashmir Black Day were arranged by the Consuls General Montreal, Toronto, and Vancouver on the human rights situation in IIOJK.