Pakistani investors are eager to invest in Ghana: Umar Shahid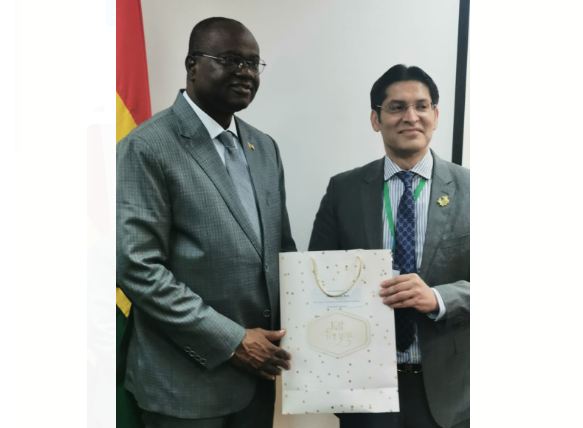 ISLAMABAD, MAY 19 /DNA/ – A trade delegation led by Ghana's Vice Consul and well-known businessman Omar Shahid Butt met Ghana's Deputy Foreign Minister Kwaku Amparetum Sarpong. In the meeting, they discussed the promotion of bilateral diplomatic, economic and trade relations.
During this meeting, Ghana's Ambassador to Pakistan, Eric, was also present. Speaking during the meeting, the Deputy Minister said that our doors are always open for Pakistani personalities.
And they are very happy to meet the Pakistani business delegation. I have long wished to meet the Pakistani delegation. For Ghana, mutual relations with Pakistan are of special importance for Ghana. We have public relations with Pakistan. , want to increase trade volume and investment.
He said that he wants to visit Pakistan soon. He said that he likes the food of Pakistan and especially dal chawal.On this occasion, he specially appreciated the diplomatic services of Dr. Shahid Rasheed Butt, Consul General of Ghana in Pakistan.
Umar Shahid Butt, said that Pakistani investors are eager to invest in Ghana, talks are underway to set up a motorcycle plant in Ghana.
Promotion of bilateral trade and economic cooperation is the need of the hour. . On this occasion, the Deputy Foreign Minister of Ghana accepted the invitation of Umar Shahid Butt to visit Pakistan.