Pakistan wins three medals in Fujairah International Taekwondo C'ship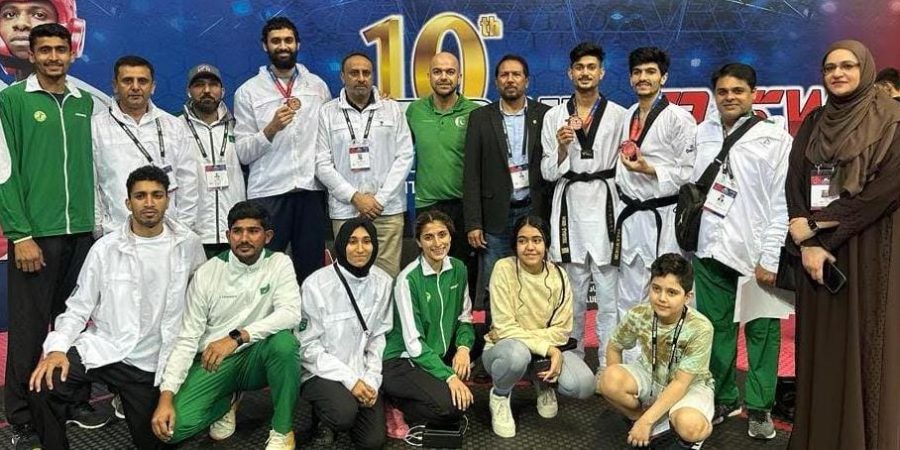 AFZAL JAVED
ISLAMABAD: Pakistan's ace taekwondo players won three bronze medals in the 10th edition of Fujairah Open International Taekwondo Championship underway at United Arab Emirates (UAE).
More than 700 players from 36 countries took part in the tournament in three age-categories (12-14 year juniors and seniors) organised by Fujairah Martial Arts Club (FMAC).  It is the biggest Taekwondo event ever held in the UAE since the tournament started 11 years ago as the Pakistani contingent participated in the senior category.
Pakistan's star player Haroon Khan won the bronze medal in the +58 kg category of the event, while Arbaaz Khan and Hamza Umar Saeed won the bronze medals in the +63 and +87 kg categories as the championship matches will continue till February 8.
President of Pakistan Taekwondo Federation (PTF) Colonel (R ) Waseem Ahmed Janjua, Chief Executive of Combaxx Sports Umar Saeed have congratulated the players for their excellent performance and hoping that the talented players will show their skills in future international tournaments to bring more medals for country's pride.
Pakistan Taekwondo Federation is also highly obliged to Pakistan Sports Board (PSB) and Ministry of Inter Provincial Coordination (IPC) for the continued support as well as approved financial grant for this prestigious event however, the federation also managed to take this huge contingent through sponsors, their annual grant and self-financed by the athletes. The main aim for participation in this mega event was to give exposure to athletes and also bring a soft image of Pakistan to other countries.