ICCI lauds Ambassador for mobilizing Pak Business Delegation to Ethiopia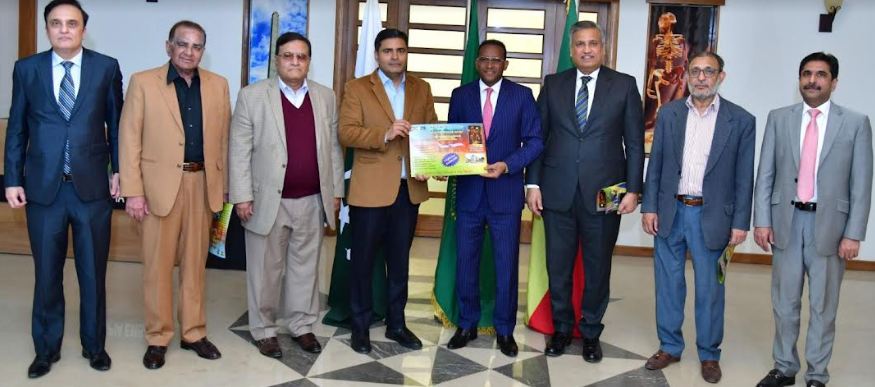 DNA
Islamabad: Ahsan Zafar Bakhtawari, President, Islamabad Chamber of Commerce and Industry (ICCI) leading a delegation visited the Embassy of Ethiopia and held a meeting with H.E. Jemal Beker Abdula, Ambassador to discuss the matters regarding inclusion of ICCI representatives in the Pakistan business scheduled to fly to Ethiopia from March 5-10, 2023 to explore business and investment opportunities in the Ethiopian market.
Ahsan Bakhtawari lauded the efforts of the Ethiopian Ambassador for mobilizing a high-profile Pakistani delegation to Ethiopia in a short span of time, which showed his commitment and dedication to promote trade and economic relations between Pakistan and Ethiopia. He said that Africa is an untapped market for Pakistan and hoped that the visit of the business delegation to Ethiopia would open up new avenues of promoting trade and exports with the African region. He said that ICCI members of pharmaceuticals, construction, IT and other sectors would join the Pakistan delegation to tap the Ethiopian market for business and investment opportunities. He also appreciated the efforts of the Ethiopian Ambassador for the start of direct flights by Ethiopian Airline between Addis Ababa and Karachi from March 22, 2023 that would help in promoting people-to-people and B2B relations between the two countries.
Speaking at the occasion, H.E. Jemal Beker Abdula, Ambassador of Ethiopia said that some big companies of Pakistan are joining the Pakistan delegation to explore the virgin market of Ethiopia, which is a gateway to Africa. He said that Ethiopia offers a lot of business and investment to Pakistani businessmen and their visit would enable them to capitalize on them. He said that Ethiopia imports 82% of pharmaceutical products, which account or US$ 1370 million and Pakistani pharma companies should take advantage of this potential. He assured that he would fully cooperate with them in their registration and documentation process in Ethiopia.  He said that Ethiopia also has huge demand for textile products, surgical instruments, sports goods, rice, chemicals, steel and cement and Pakistan can increase their export to Ethiopia. He said that Pakistan can also import some products from Ethiopia including tea, coffee, pulses and oilseeds. He said that Pakistan's defense technology has great potential in Ethiopia. He briefed the President ICCI about the Pakistani delegation, which would have B2B and B2G meetings and visits to industrial areas.
Zafar Bakhtawari, Zahid Maqbool, Nasir Qureshi, Humayun Kabir, Shaukat Hayat Khan and others were in the ICCI delegation.