Pakistan vulnerable to Climate Change, says Dr. Steffen Kudella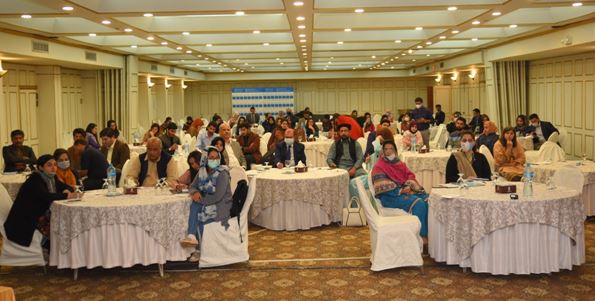 DNA
ISLAMABAD: Center for Global & Strategic Studies (CGSS), Islamabad &Hanns Seidel Foundation Pakistan jointly organized a Conference on "Climate Change as a Non-Traditional Security Challenge: Relevance for Pakistan"at Islamabad. The aim of the Conference was to establish a strong narrative based on critically analyzed climate change scenarios in the region and particularly in Pakistan. The discussion focused on highlighting the grave implications of climate change on the major pillars of national security of Pakistan.
Mr. Ashfaq Ahmed Gondal, Former Federal Secretary of Information and Broadcasting and Vice President (Federal Region), CGSS in his opening remarks stated that the consequences of climate change must be realized. We have no idea about its repercussions if remedial measures are not taken on time. There is an immediate need to enhance the storage capacity of existing water reservoirs. Thereby, constructing new mega-dams along with the large-scale rehabilitation is the dire need of time.The integrated strategies to achieve sustainable climate change targets must be communicated to the local government and community level so that the environmental threat may be catered at the grass-root level.
Dr. Steffen Kudella, Resident Representative, Hanns Seidel Foundation Pakistan in his welcome remarks stated that the effects of Climate Change can be seen everywhere in the world. Especially Pakistan is threatened by and vulnerable to Climate Change. Fortunately, Climate Change is solvable. It needs to be slowed down by cutting emissions. Carbon dioxide needs to be actively removed from the atmosphere by planting new trees or restoring old ones. We need to fight misinformation about Climate Change. And in the short-term, we need to prepare and adapt, for instance by planning for water scarcity and building more resilient cities and communities. In short: We need to act now for the future. HSF works in the service of democracy, peace and development. We understand that without formulating answers to serious non-traditional security risks such as Climate Change, sustainable development and national and regional stability are very hard to achieve.
Mr. Shakeel Ahmed Ramay, Chief Executive Officer, Asian Institute of Eco-civilization Research and Development, Islamabadgave a presentation on "Non-traditional Security Challenges: Dynamics and Challenges".
Dr. Sarah Amir, Department of Environmental Sciences, International Islamic University, Islamabad presented a speech on Emerging Non-traditional security challenges in South Asia: An Overview. She stated that Non-traditional security threats to South Asia are more inclusive and have far-reaching consequences. They can trigger political competition among states, although they do not stem from it. The availability of renewable water resources in SA is less than 5% of the global total, says IWMI report.
Dr. Hassan Abbas, Chairman Forte, Integrated Water Resources Managementpresented speech on Role of International organizations in tackling emerging Non-traditional threats: Options to tackle Climate change. He stated that there are three categories of International organizations that includes Intergovernmental, International Non Governmental Organisations (INGO) and Multinational Corporations. He explained the concept of Ecocide which is defined as "unlawful or wanton acts committed with knowledge that there is a substantial likelihood of severe and widespread or long-term damage to the environment being caused by those acts".
Mr. Salah ud Din, Deputy Director, Pakistan Council of Research in Water Resources (PCRWR)presented speech on Food Challenges in the context of climate variability. He stated that Pakistan is among the 10 most vulnerable to climate change, among 17 countries that has water shortages and among 36 countries having serious food crisis threat..
Chair of Second Session, Mr. Joudat Ayaz, Additional Secretary, Ministry of Climate Change, Government of Pakistan, Islamabad presented speech on the Impact of Glacial Lake Outburst Flood (GLOF) in Northern Areas of Pakistan, He stated that the maximum number of glaciers outside the polar regions are present in northern Pakistan. The Scaling-up of GLOF risk reduction in Northern Pakistan (GLOF-II) project is a continuation of the four-year 'Reducing Risks and Vulnerabilities from GLOF in Northern Pakistan' (GLOF-I) project, which helped vulnerable communities in two districts to prepare for and mitigate GLOF risks through early warning systems, enhanced infrastructure, and community-based disaster risk management. Dr. Kanwar Muhammad Javed Iqbal, Lead Researcher, National Institute of Maritime Affairs, Islamabadpresented speech on Environmental-threat-vulnerabilityNexus: Understanding Environmental Threats Leading to Conflicts.
Ms. Mufeezah Ahsan, Research Officer, Pakistan Council of Research in Water Resources (PCRWR)presented speech onImplications of Climate Change. She stated that Pakistan has experienced a rise in sea level at a rate of about 1.1 mm per year, which is even higher than the global mean. Rise in sea level is most likely to affect the low-lying coastal areas in Southern Sindh and Balochistan. Pakistan faced over 150 extreme weather events during the last couple of decades.
Mr. Aftab Alam Khan, Chief Executive Officer, Resilient Future International Pvt Ltdpresented speech on Strengthening Economic Security in the midst of Climate Change. He stated that Pakistan experienced 126 heatwaves between 1997 and 2015. Country is expected to witness 2.5 degrees Celsius in temperature rise over the next two decades.Pakistan has a minor share in global GHG emissions.
Dr. Naheed Bano, Assistant Professor, MNS University of Agriculture, Multanpresented speech on Climate Change Challenges on Fisheries and Aquaculture with impact on Food Security (Online). She stated that the reason for global warming is the increase of heat trapping, greenhouse gases in atmosphere.
The event was attended by approximately 120 participants, and all Sops were followed diligently.