Nisar briefs Nawaz Sharif on Lahore visit preparations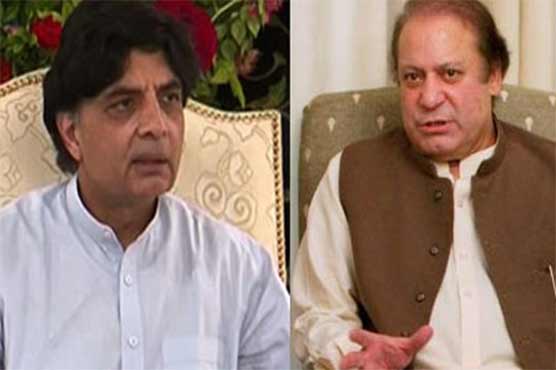 ISLAMABAD, AUG 06 (DNA) – Chaudhry Nisar Ali Khan convened a meeting with former prime minister and leader of the federally ruling political party Nawaz Sharif in Punjab House in the federal capital, sources reported on Sunday.
Reportedly, the former interior minister briefed the ex-premier over his Lahore visit that is scheduled on Wednesday.
This is the first one-on-one meeting of the two leaders after Chaudhry Nisar voiced his reservations and concerns for the leadership in a press conference hours before Nawaz was disqualified by the election commission of top court's order on July 28.
Former premier is scheduled to leave for Lahore on August 9 in form of a rally as was recommended by senior members of the party.
Earlier, Nawaz Sharif arrived in Islamabad from his Murree residence last week where he had moved to following his disqualification.
Reportedly, the former premier convened meetings with different representatives of the party as well during which he said that he decided to travel to Lahore via GT Road out of workers  insistence.
He further said that the political party in no way is in favour of clash with institutions.
The de-seated premier said that PML-N was targeted in the name of accountability. No premier in the past was subjected to the kind of actions he has endured for democracy, Nawaz claimed.
Information minister Marriyum Aurangzeb and a delegation of traders also convened meetings with the former premier in Punjab House.
Nawaz Sharif was disqualified under Article 62 and Article 63 by the apex court last month in corruption case that was lodged by Pakistan Tehreek-e-Insaf, Jamaat-e-Islami and Awami Muslim League in October 2016.=DNA
============