Muslim Identity and a Multicultural, Pluralistic Society can co-exist, says Bosnian Ambassador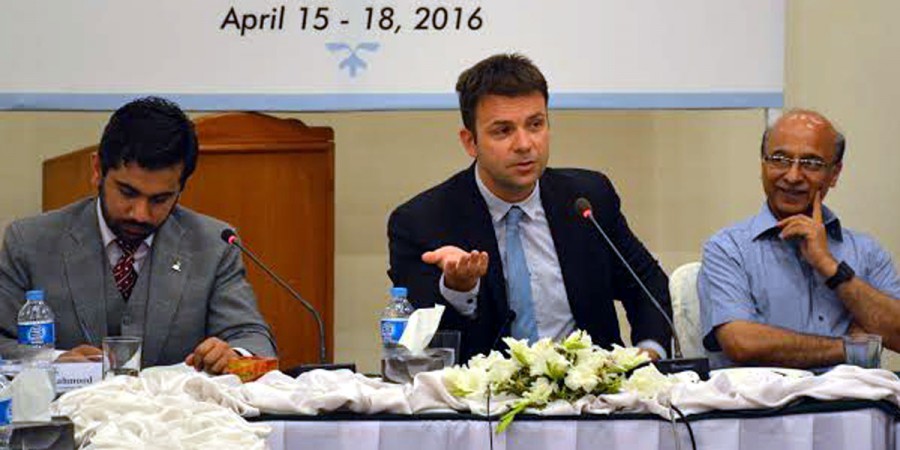 ISLAMABAD, APR 18 (DNA) -: Setting a good example as a Muslim is critical to building a better image of Muslims. Bosnia and Herzegovina (BH) is a nation that exemplifies multiculturalism, pluralism and ethnic and religious diversity.Muslims, Christians and Jews co-exist peacefully, crime is at zero, and literacy rate is at 100%. BH has created a law-abiding, peaceful, tolerant society, all without sacrificing its proud Muslim identity.
These remarks were made by Dr. Nedim Makarević, the Ambassador of Bosnia and Herzegovina to Pakistan, during the closing ceremony of Pakistan Center of Excellence's (PACE) second round of collaborative workshops; a five day residential training program from April15-18, 2016.
PACE is a major CVE initiative launched by the Center for Research and Security Studies (CRSS) – with thesupport from the government of Netherlands – to promote democratic values, respect for diversity, fundamental human rights and virtues of tolerance as a measure of ensuring social peace and harmony for peaceful co-existence.
It aims to facilitate a socio-political discourse – the Alternate Narrative on democratic rights and responsibilities anchored in the globally accepted and practiced concepts such as Rule of Law, Equal Citizenry, Secular Governance as a primary condition for social cohesion, and Tolerance for, and acceptance of cultural diversity.
The resource persons and public intellectuals who interacted with the participating university lecturers and professors from different universities across Pakistan included Dr. A.H. Nayyer,Ms. Sara Farid, Mr. SafiullahGul, Mr. Dr. MohsinNaqvi, Mr. JehangirKhattak, Ms. HumairaMasihuddin, Dr. SaminaYasmeen, and Mr. NiazMurtaza. The discussion themes we primarily rule oflaw, tolerance, diversity, fundamental human rights, equal citizenry, democracy and governance, and perhaps most importantly, the scientific need to question the narratives we are given.
ImtiazGul, Executive Director, CRSS, said that it is important to keep politics and religion separate. The mark of a tolerant society is to seek knowledge, and engage in constructive, positive dialogue.
The third PACE collaborative workshop will be conducted in May, 2016.=DNA
=================