Pakistan, Romania trade can double within two years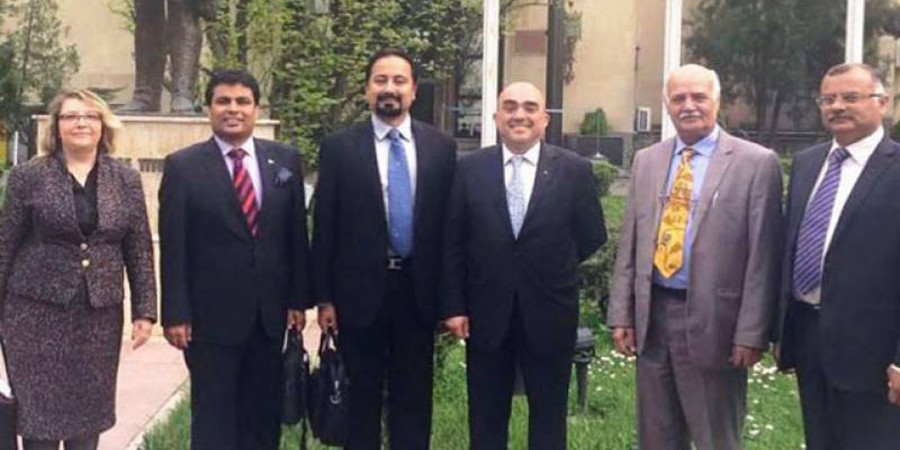 LAHORE, APR 18 (DNA) -The All Pakistan Business Forum has invited the Romanian businessmen to visit Pakistan to strengthen B2B relations. "We believe that these collaborative efforts can help double the bilateral trade between Romania and Pakistan from present volume of $200 million within two years, said APBF President Ibrahim Qureshi.
A high level delegation of All Pakistan Business Forum (APBF) visited Romania to have meetings at the Romanian Ministry of Foreign Affairs and productive discussions with Aurelian NEAGU Director of Asia Pacific and other Senior Officials. The visit was aimed at fostering cooperation to tap the business opportunities between the two friendly countries.
The President of APBF Ibrahim Qureshi led the delegation comprising of; the Secretary General Syed Maaz Mahmood, along with Board Members Mr. Tahir Malik and Mr. Asim Shaikh. Productive meeting were also held with the Director of Prahova Chamber of Commerce, the President of Bucharest Chamber of Commerce and the President of ILFOV Chamber of Commerce, besides numerous successful Romanian entrepreneurs and investors. The APBF delegation was also graciously hosted by the Ambassador of Pakistan in Romania at the Embassy of Pakistan. Mementos were presented to the distinguished personalities and participant
The senior officials of the Romanian Foreign Affairs Ministry appreciated the initiative to enhance business volumes, investments and turnover of bilateral trade, while they also assured of complete support for the efforts of the Ambassador of Romania in Pakistan, His Excellency – Mr. Emilian Ion, who is keenly promoting trade and cultural-exchange between the two countries. The respective departments in Romania are also playing a positive role in accelerating business growth.
Mr. Ibrahim Qureshi urged the business leaders of Romania to support closer ties between Romania and Pakistan and stated that: "These dialogues between the leading businessmen and industrialists were meant to inspire the business communities to take advantage of the opportunities in many promising sectors of Pakistan.
The All Pakistan Business Forum (APBF) is a vibrant business association which promotes and protects the interests of the business community and a wide range of industries in Pakistan. It also advises reforms to the Government sector, regarding policy formulation, regulatory realignments and implementation in the commercial and industrial sectors of the economy. Over the years, APBF has been consistently playing a positive role in elevating the standards and productivity, while facilitating business activity in Pakistan.