MCI planning to improve road infrastructure, says Mayor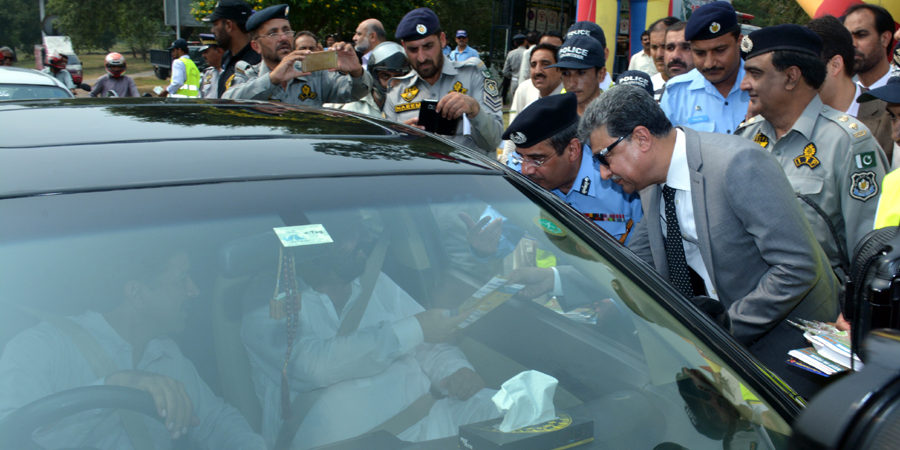 ISLAMABAD, SEPT 27 (DNA) – Mayor of Islamabad Metropolitan Corporation (MCI) and Chairman Capital Development Authority (CDA), Sheikh Anser Aziz has said that MCI is formulating a comprehensive strategy for improvement of road infrastructure including widening of different squares and crosses to ease the mounting pressure of traffic in the Federal Capital.
However, he said that amassed traffic can easily be controlled by producing awareness of traffic among the commuters, adding that under an effective plan, MCI in collaboration with Islamabad Traffic Police would solve the traffic issues in the city.
Mayor of Islamabad and Chairman CDA, Sheikh Anser Aziz expressed these views while addressing a ceremony organized by the Islamabad Traffic Police.
On this occasion, Inspector General, Islamabad Police, Senior Superintendent Police (Traffic), officers from MCI and Islamabad Traffic Police, school children and people from all walks of life were also present.
The purpose of the ceremony was to develop sense of awareness among the citizen about the campaign "keep your lane and line on road". This awareness campaign would continue for a week.
During the ceremony, Mayor MCI and Chairman CDA, Sheikh Anser Aziz announced a committee comprises of the officers of MCI and Islamabad Traffic Police. The committee would submit its recommendations about the issues related to traffic jam at rush hours and its solution, especially during the offices and schools times. In the light of these recommendations, effective measures would be taken to address the traffic issues in the city.
Mayor of Islamabad and Chairman CDA, Sheikh Anser Aziz said that being one of the beautiful capitals in the world, Islamabad is the face of Pakistan, adding that we would play our due role by following strictly the traffic rule to make it a model city of the country.
He said that existing road infrastructure was fulfilling the needs of traffic in the past, however; he added that with the passage of time, the burden of traffic increased and now we need to take more effective measures to overcome the traffic problems. He said that MCI and Islamabad Traffic Police would make joint coordinated efforts for smooth flow of traffic in the city.
Mayor of Islamabad and Chairman CDA, Sheikh Anser Aziz along with I.G (Islamabad Police), SSP (Islamabad Traffic Police), school children and citizens distributed traffic awareness pamphlets among the commuters on Kashmir Highway near Serena Hotel and presented flowers for awareness about the traffic rule and positive behavour of traffic Police among the masses. Children of different schools have also distributed the pamphlets among the citizens appealed them to follow the traffic rule.  =DNA
=============