Iraq Kurds in historic independence vote in defiance of Baghdad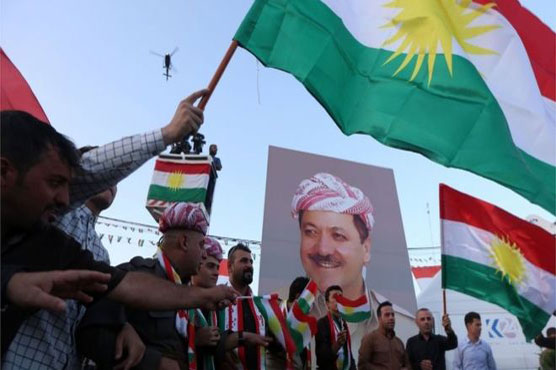 ARBIL, SEPT 25 (DNA) – Iraqi Kurds are to vote in an independence referendum Monday in defiance of Baghdad which has warned of "measures" to defend Iraq s unity and threatened to deprive their region of lifeline oil revenues.
The non-binding vote on the Kurds  long-cherished dream of independence, initiated by veteran leader Massud Barzani, has angered not only the federal government but also neighbouring Turkey and Iran, concerned it could stoke separatist aspirations among their own sizeable Kurdish minorities.
A total of 12,072 polling stations for the more than 5.3 million registered voters were to stay open for 12 hours from 8:00 am (0500 GMT).
The stations are scattered across the three northern provinces of autonomous Iraqi Kurdistan, Arbil, Sulaimaniyah and Dohuk, as well as in disputed bordering zones such as the oil-rich province of Kirkuk.
Initial results are expected to be announced 24 hours after the vote but an overwhelming "Yes" outcome is not in doubt, with Kurdish flags festooned in all the streets, on cars and outside homes across Iraqi Kurdistan.
As Barzani pledged on Sunday to go ahead with the historic referendum after having resisted a barrage of international pressure to call it off, Iraq s leader pledged to take all the "necessary measures" to protect the country s unity and his government targeted the Kurds  oil sales.
Prime Minister Haider al-Abadi said that taking the Kurds  unilateral decision to stage a referendum affected both Iraqi and regional security, and was "unconstitutional and against civil peace".
"We will take the necessary measures to preserve the unity of the country," he said, without elaborating.
Hours later, the Iraqi government at a meeting of its security cabinet called on all countries "to deal only with it on matters of oil and borders".
The Iraqi Kurds export an average 600,000 barrels per day (bpd) through a pipeline running through Turkey to Ceyhan on the Mediterranean.
Tehran also upped the pressure on Sunday, saying it had blocked all flights to and from Iraqi Kurdistan at Baghdad s request.
Washington and many Western states had opposed the vote, saying it would hamper the fight against the Islamic State jihadist group in which cooperation between Baghdad and the Kurds has been key.
But Barzani said the Kurds  "partnership with Baghdad" since the ousted of dictator Saddam Hussein in the 2003 US-led invasion had failed and urged his people to turn out and vote.
"We expect reactions from one side or another but we are convinced that whatever the risk and the price, it s better than waiting for a dark outcome," he said.
"The referendum is not for defining borders or imposing a fait accompli. We want a dialogue with Baghdad to resolve the problems, and the dialogue can last one or two years," Barzani said of zones such as Kirkuk.