Indian External Affairs Ministry summons Pakistani HC twice in week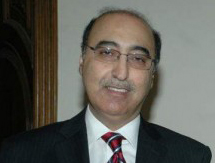 NEW DELHI, September 27 (DNA): Indian Ministry of External Affairs has summoned Pakistani High Commissioner, Abdul Basit on Tuesday for the second time in a week to wrongfully lodge protest over Uri attack and hand over evidence, as claimed by Indian media.
The second time summoning came a day after Sushma Swaraj, External Affairs Minister addressed the General Assembly of United Nations claiming disputed territory of Kashmir as an "integral" part of India and demanding Pakistan to forget "Kashmir dream."
The identity of one of the slain Uri attackers was also revealed during the meeting, said MEA spokesperson Vikas Swarup, according to Indian Express.
Foreign Secretary S Jaishankar also informed Basit that the two guides who had helped the four terrorists cross into the Indian side were apprehended by local villagers and are now in custody.
The guides have been identified as Faizal Hussain, 20, and Yasin Khurshid, 19, both natives of Muzzaffarabad in Pakistan-administered-Kashmir, it claimed.
Details of their handlers, Mohammad Kabir Awan and Basharat, were also obtained, Swarup said.
The foreign secretary termed the continuing cross border terrorist attacks from Pakistan against India as unacceptable.
In response to handover of alleged evidence of attack in Uri Town of Baramulla District earlier this month that killed at least 18 Indian soldiers and injured nearly 30, Basit denied links of any Pakistani agency with the four terrorists that stormed the Brigade Headquarters.
Minister of External Affairs has claimed that the militants arrived in Indian-held Kashmir from Muzaffarabad.
However, the Pakistani envoy cleared once again that Pakistan was desirous of friendly terms with not the neighboring states but the world.
On September 11, in a pre-dawn strike, four militants had entered Indian Brigade Headquarters in Baramulla District of Kashmir valley that is held by India forcefully using instruments like curfew, armed personnel, media blackout and putting Hurriyat leaders under house arrest from time to time.
The attack was reported as one of the deadliest in the area in the past seven decades of Indian occupation.
Uri attack came at a critical point when Prime Minister Nawaz Sharif had left for New York City to address the 71st session of the United Nations General Assembly.
Analysts saw the attack as an ill move of India that numerous times in the past revolved around playing the 'victim card' every time Pakistan raised Kashmir dispute either on an international platform or attempted to revive talks with the aggressor.
Pakistan and India have gone on war footings numerous times since partition in August 1947 and have been through with offensives and military strikes two times over Kashmir dispute among other confrontations.
According to a report every time Pakistan has addressed the issue in the United Nations General Assembly, India have either resorted to shelling and firing across the Line of Control decimating houses and schools among injuring locals besides the innocent casualties.
Earlier this year, a freedom fighter was martyred by Indian security agencies in one of many bloody strikes in the valley paving way for the locals to storm streets and register protests.
India exercised over a month long curfew in the occupied valley over the demonstration and resorted to media blackout fearing attention to the atrocities.
It was then that at least 80 locals were martyred and hundreds injured sparking debate over the use of pellet guns and ammunition.
Narendra Modi, Indian Prime Minister has presided over at least three meetings of cabinet committee on security, a high-level meeting to review Indus Water Treaty, possibly to cut water supply to Pakistan and a meeting of chiefs of three armed forces in war room in the capital, New Delhi ever since Uri attack.