We see Pakistan as 'a terrorist state': India replies to Nawaz's UNGA address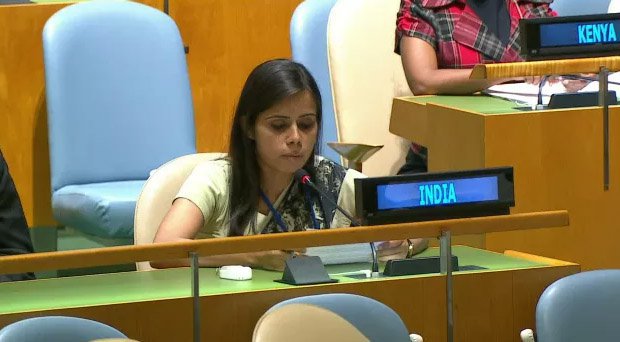 NEW YORK: India, exercising its Right of Reply to Prime Minister Nawaz Sharif's United Nations General Assembly (UNGA) address, levelled serious allegations against Pakistan in its rebuttal, terming it a 'terrorist state', which Pakistan in a reply to India strongly rejected.
Nawaz Sharif had in his UNGA speech maintained that Pakistan wants peace with India but it is "not possible without resolving the Kashmir issue". The premier urged the UN to demilitarise Jammu and Kashmir and called for steps to implement UN Security Council resolutions on Kashmir.
India's First Secretary in the Permanent Mission of India to the UN Eenam Gambhir accused Pakistan of sponsoring terrorism, according to a Indian media report.
India sees Pakistan as "a terrorist state", she said, accusing Pakistan of diverting international aid towards training, financing and supporting terror groups as 'militant proxies' against neighbouring countries.
"The worst violation of human rights is terrorism," she said. "When practised as an instrument of state policy, it is a war crime. What my country and our other neighbours are facing today is Pakistan's long-standing policy of sponsoring terrorism, the consequences of which have spread well beyond our region," she alleged.
Muhammad Faisal, a director general at the Foreign Office, rejected Gambhir's accusations that Pakistan was promoting terrorism in India-held Kashmir (IHK) and elsewhere, saying that the Kashmiri uprising after the death of Hizbul Mujahideen commander Burhan Wani "was spontaneous and indigenous".
"The Indian government has chosen to criticise the statement by the prime minister of Pakistan, which reflects the sentiments and aspirations of the oppressed people of Jammu and Kashmir, who have, for seventy years faced bullets, repression and the brutalities of illegal occupation," Muhammad Faisal said in the 193-member Assembly, responding to the serious allegations levelled by Gambhir.
Pakistan, he said, would continue to stand by the people of Kashmir and extend its full diplomatic and political support to their movement for freedom from Indian oppression.
"The cold-blooded murder of Burhan Wani sparked widespread and unprecedented protests across Kashmir, which was spontaneous and indigenous and was irrefutable evidence of the Kashmiri peoples rejection of Indian occupation," Faisal told the UNGA .
"But peaceful protesters were mercilessly fired upon, blinded and critically injured," he said.
"The right to self-determination has been promised to them by the international community through a series of Security Council resolutions. Although this promise has yet to be realised seven decades later, time has not weakened their resolve nor their aspirations. In fact, it remains active and vibrant in the hearts of the Kashmiris."
The diplomat said the Kashmiri people looked towards the international community, especially the members of the UNSC, to deliver on the pledge to hold a free, fair and impartial plebiscite under UN auspices, to enable them to decide their future, a democratic and legal right of the Kashmiri people.
"No amount of verbiage used by the Indian delegation can obfuscate this reality," Faisal said
Indian Minister of State for External Affairs M.J. Akbar on Thursday also expressed surprise over PM Nawaz Sharif's reference to Burhan Wani as a 'young leader' during his UNGA address a day earlier.
Akbar, addressing a press conference moments after Nawaz's speech at India's permanent mission, remarked it was very strange that Pakistan had termed the 'terrorist' a 'hero'.
"We heard the glorification of a terrorist. Wani was a self-declared commander of the Hizbul Mujahideen. This organisation is widely acknowledged as a terrorist group internationally. This is self incrimination," Akbar claimed.