Nawaz gives UN chief dossier on human rights violations in held Kashmir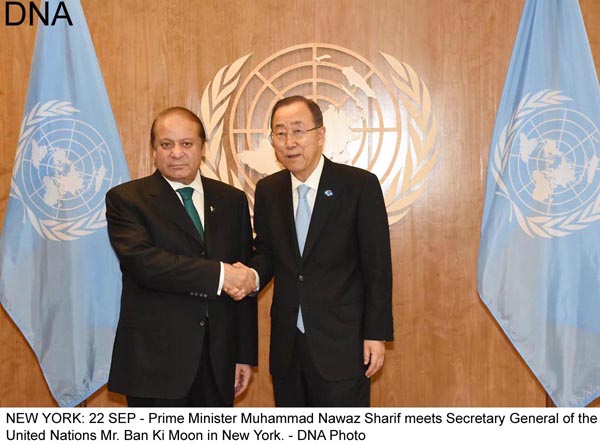 NEW YORK: Prime Minister Nawaz Sharif on Wednesday handed over a dossier containing details of Indian atrocities against civilians in India-held Kashmir to UN chief, Secretary General Ban Ki-moon and briefed him on gross human rights violations being committed in the region by Indian forces.
The PM apprised Ban of the plight of the Kashmiri people who he said are victims of Indian brutality in the region which have continued unabated since the July 8 killing of Hizbul Mujahideen commander Burhan Wani which sparked violent protests and clashes with Indian forces despite repeated imposition of curfews in IHK.
PM Nawaz told the UN chief that human rights violations by India in IHK have resulted in over 100 deaths and thousands of injuries over the past 74 days.
The indiscriminate use of pellet guns which have blinded hundreds, including women and children, is reflective of the barbaric mindset of Indian security forces, Nawaz said.
India also continues to resort to repressive measures such as curfews, incarceration of Kashmiri leaders and denial of medical treatment to the injured, especially those blinded and poisoned by pellet gunfire, Nawaz told the UN chief.
The dossier which was handed over to Ban Ki-moon contained photographic evidence of Kashmiri victims of pellet guns used by Indian forces in IHK. The UN secretary general expressed shock over the photos.
PM Nawaz emphasised that India must be urged to abide by UN Security Council resolutions on Kashmir and also reiterated his demand of an independent inquiry into extra-judicial killings, demanding a UN fact-finding mission be sent to investigate the situation in IHK.
The PM thanked the UN chief for his strong and supportive statements on the situation in Kashmir, and Ban praised Pakistan for its prominent and active role in the United Nations and its contribution for peace and security.
The PM's meeting with the UN secretary general comes after the premier addressed the UN General Assembly in New York City.
Nawaz at the UNGA said Pakistan wants peace with India but maintained it is "not possible without resolving the Kashmir issue".
"This indigenous uprising of the Kashmiris has been met, as usual, with brutal repression by India's occupation force of over half a million soldiers," said Nawaz.
The prime minister demanded an investigation into atrocities committed by Indian forces in IHK and also urged the UN to demilitarise Jammu and Kashmir.
In this regard, the prime minister called for steps by the United Nations to undertake consultations with India, Pakistan and the true representatives of the Kashmiri people to implement the resolutions of the Security Council.
"Pakistan is not interested in an arms race with India," said Nawaz.