Iran wants to be part of CPEC, says Rouhani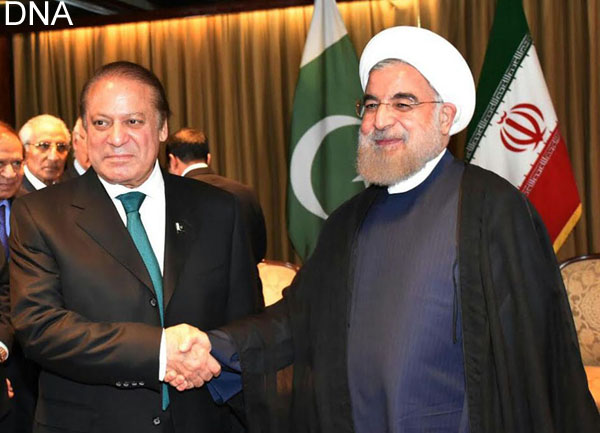 NEW YORK: Iranian President Hassan Rouhani in a meeting with Prime Minister Nawaz Sharif on the sidelines of the UNGA on Wednesday expressed a desire to be part of the China-Pakistan Economic Corridor (CPEC) as both leaders expressed satisfaction over the positive trajectory in Pak-Iran bilateral ties.
Rouhani lauded the PM Nawaz's vision which he said translated the CPEC into reality. Connectivity projects were recognised by both countries' leaders as vital to the progress of the region.
Rouhani said Iran considers Pakistan's economic development as its own development. Both sides discussed opportunities for bilateral cooperation in the field of energy, especially oil, gas and electricity.
They noted that progress on Iran-Pakistan gas pipeline and electricity import from Iran would help Pakistan overcome its energy shortages in the coming years.
The Iranian president said there is a need for defence cooperation between the two countries, as they have a history of cooperation in this regard. Pakistan's security is the security of Iran, he said.
Nawaz apprised Rouhani of Indian brutalities in held Kashmir.
The Kashmiri people are victims of heinous acts of state-sponsored terrorism at the hands of Indian forces, Nawaz said, adding that the situation in the valley remains tense in the wake of the uprising after Wani's death.
The prime minister also stressed the need to build unity and cohesion within the Muslim world, particularly at a time of turmoil.
Rouhani extended an invitation to Iran to the prime minister. Nawaz accepted the invitation and said that he would visit Tehran soon.