India plans to completely seal border with Pakistan by Dec 2018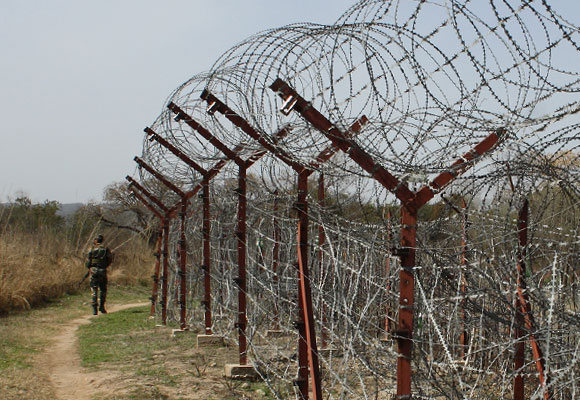 NEW DELHI , OCT 8 (DNA) — The Indian government on Friday said that it will seal the entire stretch of 2300km long border it shares with Pakistan by the end of 2018.
Speaking to media after reviewing the security situation on border with ministers and officials of four bordering states, Indian Home Minister Rajnath Singh said India is planning to seal the entire border with Pakistan by December 2018 and a proper monitoring mechanism would be in place at the central and state government levels for it.
"The action plan will be frequently monitored at multiple levels to ensure we do not miss the deadline. It would be monitored not only by the security agencies but also the chief secretaries of the four states.
A monitory framework would be prepared for monthly, quarterly and annual review of the implementation of the action plan," Singh told reporters.
He also hinted at setting up a border security grid for which suggestions have been invited from all the concerned stakeholders including the states which share border with Pakistan.
The Indian Home Minister was on a two-day visit to the border areas of Rajasthan, where he interacted with the Border Security Force (BSF) officers and civil administration to review defence preparedness following the attack in the Army camp in Uri on September 18.
Tensions remain high between India and Pakistan after recent confrontations near the Line of Control (LoC) and both sides have also been involved in a fierce verbal battle over cross-border encounters after attack on Indian Army base in Occupied Kashmir.
Denying Pakistan involvement in Uri terror attack, Prime Minister Nawaz Sharif on Thursday accused India of running away from dialogue and instead creating a war-like environment by blaming Pakistan for the Uri terror attack.
He also accused India of violating the LoC ceasefire agreement and launching "aggression" against Pakistan.
"India's ceasefire violation resulted in the death of our two soldiers, when it attacked Pakistan. It was befittingly responded and was conveyed that Pakistan Army is fully capable to respond to any aggression," he said.
PM Nawaz also expressed support for Kashmiris and said the issue should be resolved according to the wishes of people of Kashmir and the UN resolutions.=DNA
===============