Governor SINDH should be placed on the ECL: Mustafa Kamal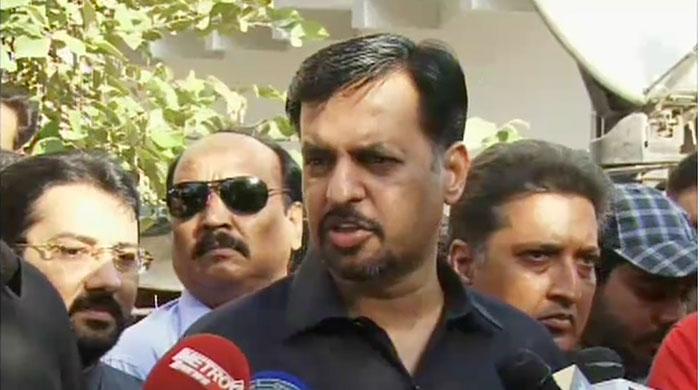 KARACHI: Pak Sarzameen Party (PSP) Chief Mustafa Kamal said on Monday that Governor Ishrat ul Ebad played the biggest role in politics in Karachi and his name should be placed on the Exit Control List (ECL).
He was speaking to journalists outside a party leader's house which came under attack earlier today. "Since 14 years Ishrat ul Ebad has been the governor and he knows a lot that is happening."
Without giving any details of a so-called Dubai meeting in which the governor was present he said that money from 'china-cutting and RAW' were sent to the MQM founder through him.
In a direct attack at his character he said that the governor was known in Sindh as "Rishwat ul Ebad".
He said that the governor was only interested in saving his governorship, without caring for what happens in the city.
Kamal said that Anees Qaimkhani and Raza Haroon approached the governor to quit Muttahida Qaumi Movement and join his party but he said his position as governor was too dear for him. "Our romance continued for about one and a half month but to no avail."
He alleged that the governor was still in touch with the MQM founder.
He called him the "establishment's man" saying that he speaks to the DG Rangers, DG ISI and Corp Commanders.
He said that his party will not beg the state for security. "It is the state's duty to give me security. We have challenged India, challenging Altaf Hussain is equal to challenging India."
Kamal alleged that the MQM founder was still getting oxygen from Pakistan.
He said that no one is ready to vote for MQM Pakistan adding that its chief Dr Farooq Sattar had changed his stance several times.
Unknown men opened fire at Pak Sarzameen Party leader Ashfaq Mangi's residence in Gulistan-e-Jauhar on Monday, police said. According to Mangi he was present in the house when four men opened fire at his residence. Kamal was speaking outside his residence.