Gaza gets limited fuel supply, but Israel bans use for hospitals and water purification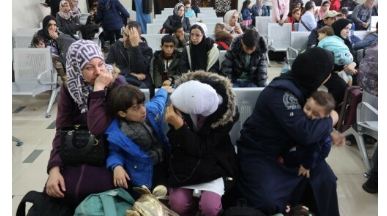 WHO loses contact with staff in Al-Shifa hospital amid Israeli raid; Erdogan calls Israel a "terror state".
Bombarded twice in Gaza, 4-year-old Ahmed loses parents, then legs
The boy keeps asking for his parents, and he wants to get up and walk, but his parents are dead and his legs have been amputated.
That is the plight of Ahmed Shabat, a four-year-old boy whose parents were killed when their home in the town of Beit Hanoun in the northeastern corner of the Gaza Strip was hit by an Israeli air strike.
"The child asks every day. 'Where is my father? Where is my mother?' Every single day. But we try very hard to make him forget, and adjust to the situation he is currently in," said Ahmed's uncle, Ibrahim Abu Amsha, who has become his guardian.
Abu Amsha said the force of the blast threw the boy into a neighbouring house and killed 17 family members in total. The only other survivor was Ahmed's two-year-old brother.
Gaza gets half a tanker of fuel, says UNRWA
The United Nations agency for Palestinian refugees has said Gaza has received 23,027 litres of fuel, equivalent to half a tanker, from Egypt. However, it can only be used for transferring of aid from Rafah crossing.
"No fuel for water or hospitals. This is only 9 per cent of what we need daily to sustain lifesaving activities," UNRWA director Thomas White said.
UN Security Council silence led to 'barbarism' at Al-Shifa hospital: Jordan FM
Jordan accused the UN Security Council today of enabling the "barbarism" of Israel's raid on Gaza's main hospital through its silence.
"The catastrophe in Al-Shifa hospital shows the barbarism UNSC's silence is allowing," Foreign Minister Ayman Safadi wrote on X, formerly Twitter, commenting on the overnight operation by Israeli troops.
"We condemn the silence on this brutality. It is providing cover for war crimes. It is unacceptable, and unjustifiable. The Council must act."