FO asks India to stop peddling falsehood, smear campaign against Pakistan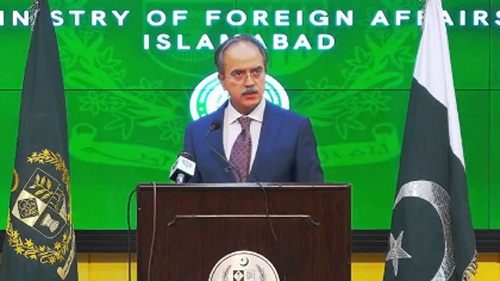 Islamabad : Pakistan has welcomed recent OIC statements demanding an accountability for increasing Islamophobia and systematic and targeted violence against Muslims in India.
At his weekly news briefing in Islamabad on Friday, Foreign Office Spokesperson Asim Iftikhar said it is encouraging that the human rights situation in India and illegally occupied Jammu and Kashmir has gained increasing attention of international community.
Alluding to Gujarat massacre and Delhi riots as well as recent attacks on Muslims in Assam, the spokesperson stressed that this international scrutiny of India must continue.
The Foreign Office Spokesperson asked India to stop peddling falsehood and smear campaign against Pakistan. He condemned the recent irresponsible and provocative statement of the Indian Home Minister. He said Pakistan has repeatedly drawn the attention of the international community to India's sinister designs of staging false flag operations to implicate Pakistan and Kashmiris. He reiterated that Pakistan is a peace loving country, however, it will spare no effort in resolutely thwarting any aggressive Indian designs.
When asked about relationship with the United States, the spokesperson said Pakistan is looking forward to a balanced and broad-based relationship with Washington. Beyond Afghanistan, our relationship is progressing in a healthy manner. He said we are focusing in building a stand-alone and comprehensive partnership.
Regarding Afghan situation, the spokesperson said Pakistan has repeatedly underlined its commitment to a peaceful, stable and sovereign Afghanistan. Peace in Afghanistan is also critical for reaping the dividends of regional connectivity that is in line with Pakistan's renewed focus on geo-economics and economic security.
Asim Iftikhar said continued and constructive engagement of the international community with Afghanistan is crucial for addressing the immediate humanitarian needs, ensuring economic stability, and durable peace. He said we note the recent international engagements with Afghanistan as positive steps.
The Spokesperson said Pakistan stands with the people of Afghanistan. We are continuing our humanitarian assistance. Over 900 Afghan students enrolled in Pakistan are being facilitated to travel to Pakistan to resume their studies.