Five judges ousted me in one minute, isn't it disgrace to people's vote: Nawaz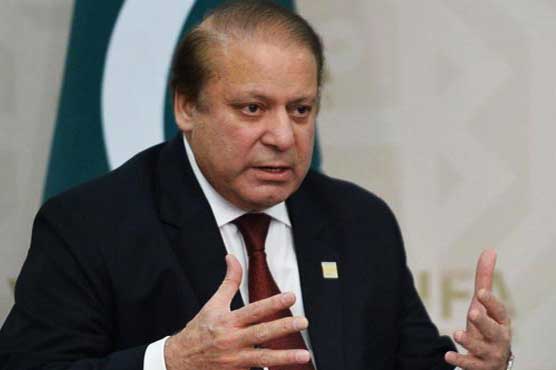 JHELUM, AUG 10 (DNA) – Former Prime Minister (PM) Nawaz Sharif on Thursday addressed the rally and said that he had promised to do whatever it took to take Pakistan towards prosperity and things have improved a lot during the last four years.
Addressing the rally, Nawaz Sharif reminded the attendees of all the promises he had made during the 2013 election campaign. He said that the load shedding of 2013 was a thing of the past already and it will completely be over by 2018.
"The parties that were going into a different direction in Balochistan, were brought into the mainstream. We made a coalition government there. We saved Karachi from the menace that it was under in 2013. Today, motorways are being made throughout the country and the economic resurgence is underway", Nawaz Sharif said.
Nawaz said that he was ousted by  5 judges in just 1 minute . "Isn t it a disgrace to the people of Pakistan that 5 honourable judges ousted the PM who you had voted to power? The people should ask them why they ousted Nawaz Sharif when he had done no corruption", he said.
The former PM said that  the judges accepted that Nawaz Sharif hadn t done any corruption but still they ousted me . He said that his hands were clear and his heart was filled with love for Pakistan.
"I want to ask why they ousted me. Someone tell me why I was ousted. There were no charges of corruption or kickbacks on me. Did they oust me because Pakistan was progressing and the poor were getting ecployment", he said. He added that had the process continued, unemployment would have been eradicated from the country completely.
Nawaz added that he was not worried about himself anymore. "I am worried about the youth. But the youth must not become hopeless. It s been 70 years that the people are being exploited and not a single PM was able to complete the term. This is not a disgrace to the PM but to the people of Pakistan", he said.
"You vote people into power and some dictator or some judge comes over and ousts them from the PM office. We have to change it if we want to improve the future of Pakistan s youth", he said.
I haven't come here to ask you for votes this time. I am going home. You had sent me to Islamabad but those in Islamabad sent me home.
Nawaz said that he wanted to do something for the people of Pakistan but those in love with 'container' and a 'maulvi sahab' came to Islamabad for the sit-in. "The maulvi sahib starts feeling something for Pakistan every three months. I can't understand how people can follow such a person", Nawaz said.
He added that he had been ousted over a charge of not taking salary from his son. "On an average one PM is ousted in 1.5 years while the dictators have ruled the country for 10 years each. And see how the dictator left the country, saying he had pain in his back", he said.
Nawaz came down hard on the judiciary for having allowed Musharraf legitimacy, saying that the judges had approved of Musharraf's coup. "Are there any courts in this country that would sentence such dictators?"
He said that the nation will avenge everything that had been done with him. "If you hold these people accountable for their deeds now then Pakistan will surely survive", he added."It is our duty now that we ensure no PM is ousted by anyone other than those who vote him to power", Nawaz said.