Safoora Goth massacre masterminds detained: CM Sindh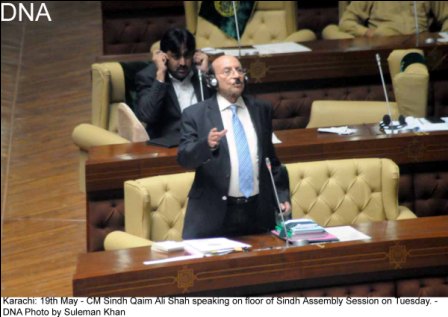 KARACHI: Sindh Chief Minister Syed Qaim Ali Shah on Tuesday said security authorities had apprehended masterminds of the Safoora Goth massacre, in which 45 people of the Ismaili community lost their lives.
While talking to media persons in Nawabshah, the Sindh chief minister said the alleged militants, who admitted to planning the bus attack, had been arrested from Karachi. The arrested suspects also pointed out names and details of their accomplices, he added.
Shah said statements of witnesses had been investigated and verified, adding that soon the actual attackers will be put behind bars as well.
At least 43 people were killed and 13 others wounded on May 14 when armed men opened fire inside a bus carrying members of the Ismaili community near Safoora Chowk in Karachi.
Sindh Police Inspector General Ghulam Haider Jamali said 60 people were on board the bus when six gunmen entered and executed 43 passengers.
He added that the armed men used 9mm pistols to take out bus passengers from close range. The attackers managed to flee after the attack.
Ahmed Marwat, a spokesman for Jundullah, which is a splinter group of the Tehreek-i-Taliban Pakistan (TTP), had claimed responsibility for the attack. =DNA
==========