EU, Pakistan signs two financing agreements worth €59 million euros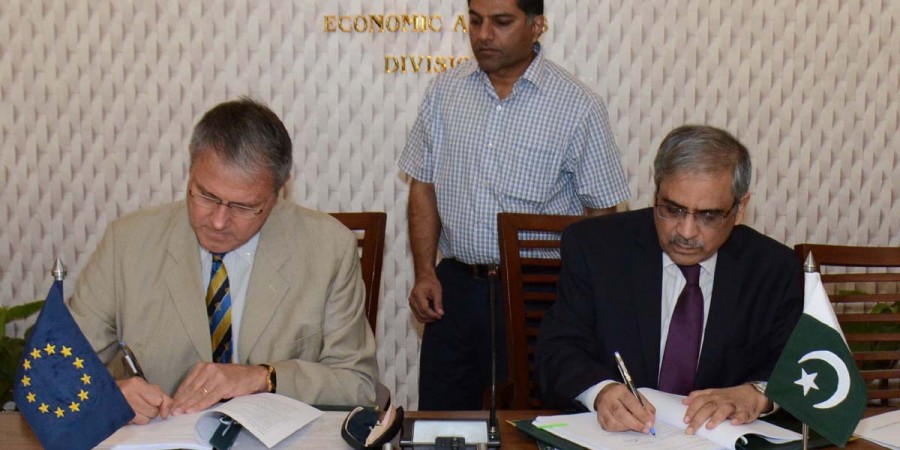 ISLAMABAD, 29 JUNE (DNA) – The European Union (EU) and the government of Balochistan have jointly designed a six year programme in which the EU will contribute €45 million (5 billion Pak Rupees approximately) to support community-led local development and local governance.
Financing Agreements of the Balochistan Rural Development and Community Empowerment Programme and the International Labour and Environment Standards programme were signed on Wednesday between the European Union and the government of Pakistan.
Mr. Tariq Bajwa, Secretary Economic Affairs Division, Government of Pakistan signed the Agreements on behalf of the GoP while Mr. Stefano Gatto, Chargé d'Affaires signed on EU's behalf.
The Balochistan Rural Development and Community Empowerment Programme will help communities as well as provincial and local authorities to partner in reducing the negative impact of economic deprivation, poverty and social inequality, environmental degradation and climate change.
It aims to build and empower resilient communities in identifying and implementing socio-economic development activities on a sustainable basis in partnership with local authorities.
The programme objectives are twofold: to enable communities to implement community-driven socio-economic development interventions and capability to influence public policy decision making for quality service delivery, and to capacitate local authorities to manage and involve communities in the local public sector planning, financing and implementation process.
The Programme will also assist the Government of Balochistan in formulation of a Policy Framework to institutionalise and sustain community-led local development approaches, and to improve Public Finance Management in the Province.
Chargé d'Affaires Mr. Stefano Gatto also thanked the Ministry of Overseas Pakistanis and Human Resource Development, the Ministry of Climate Change, ILO and WWF on the occasion of the signature of the financing agreement of the EU funded project International Labour and Environment Standards (ILES) in Pakistan.
Mr. Gatto said at the occasion that the EU firmly believes in the importance of rule of law as a key factor for inclusive growth and development, applied to every dimension of law, and in particular labour law. The project will not only help the competitiveness of Pakistani products if they are labelled "fair trade" but will also help Pakistan to improve the use of international standards in terms of environment.
Furthermore, the respect of international environmental standards will allow Pakistan to use the label of "green" products, which will increase competitiveness of Pakistan, he added.
This €12.6 million Euros project International Labour and Environment Standards (ILES) will promote the enforcement, implementation and compliance with ILES by public and private sector institutions and organizations in Pakistan.
The programme objectives are twofold: 1) to assist public sector institutions (Federal and provincial) to improve the enforcement of existing legislation and compliance with ILES in Pakistan, as well as define new laws where necessary and 2) to assist the textile and leather sectors' small and medium enterprises to institutionalise the implementation ILES legislation through their active engagement.
This six year programme should start later this year. The EU has allocated 653 M€ to finance development projects in Pakistan during the 2014-2020 period, focusing principally on rural development, education and vocational training, as well as on governance, human rights and rule of law. DNA