International Day of the Girl Child at Pakistan Sweet Homes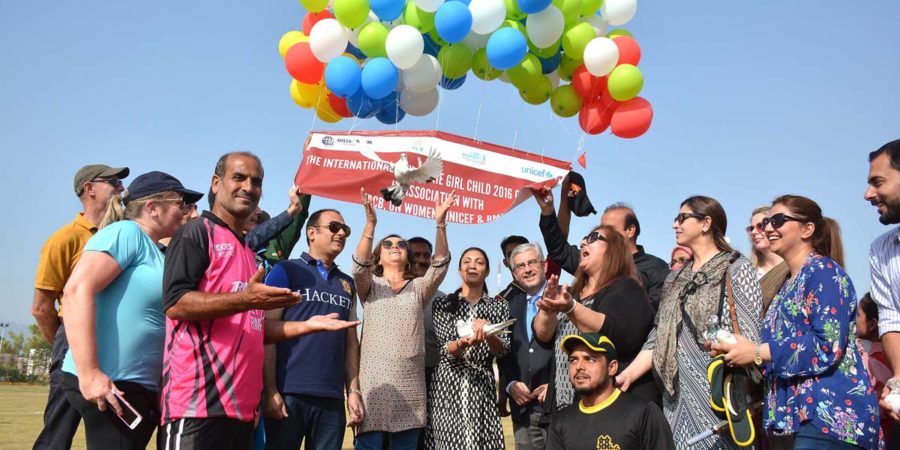 ISLAMABAD OCT 11 (DNA) –  UN Women, the United Nations Entity for Gender Equality and the Empowerment of Women, and UNICEF, the United Nations Children's Fund, commemorated the UN International Day of the Girl Child with a cricket day for girls.
 The event took place at Pakistan Sweet Homes in Islamabad, and more than 70 girls from 4 different schools and 15 women from the expatriate community participated. A total of 350 spectators, organizers and cricket players took part in the event.
Young girls from Mashal Model School, Millennium Roots Schools, National Special Education Center and Pakistan Sweet Homes played a number of cricket matches in an all-day tournament to celebrate the day.
The UN International Day of the Girl Child promotes girls' human rights, highlights gender inequalities existing between girls and boys and addresses the various forms of discrimination and abuse suffered by girls around the world.
The world's 1.1 billion girls are part of a large and vibrant global generation poised to take on the future. Yet the ambition for gender equality in the Sustainable Development Goals (SDGs) highlights the preponderance of disadvantage and discrimination borne by girls everywhere on a daily basis.
Only through explicit focus on collecting and analyzing girl-focused, girl-relevant and sex-disaggregated data and using these data to inform key policy and program decisions, can we adequately measure and understand the opportunities and challenges faced by girls and identify and track progress towards solutions to their most pressing problems.
With this in mind, the theme for this year's International Day of the Girl (11 October) is Girls' Progress = Goals' Progress: What Counts for Girls.
While we  applaud the ambition and potential of the SDGs to contribute meaningfully to the advancement of girls, and recognize how girls' progress is a positive, not only for girls, but also for their families, communities and society at large, we must also take this opportunity to consider how existing gaps in data on girls and young women, a lack of systematic analysis and the limited use of existing data, may significantly limit our ability to monitor and communicate the well-being and progress of half of humanity. DNA
-===========