COAS asks Ghani to cooperate to trace Charsadda attackers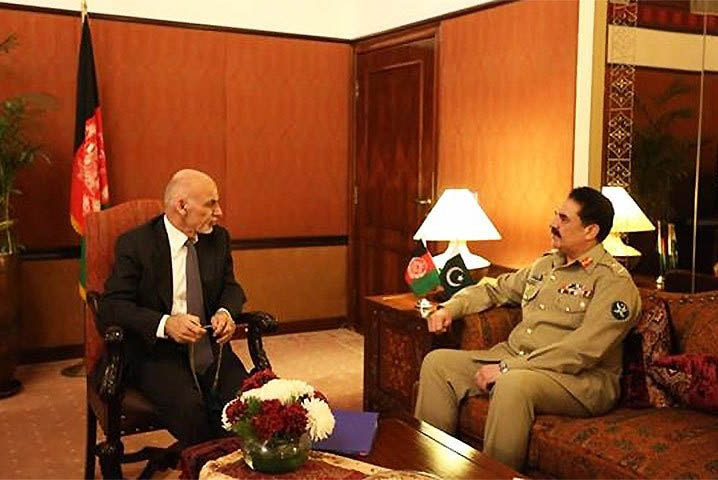 RAWALPINDI: Chief of Army Staff Gen Raheel Sharif on Thursday telephoned Afghanistan President Ashraf Ghani and shared with him investigation details of yesterday's brazen terror attack on Bacha Khan University in Charsadda, said the military's media wing chief.
In successive messages on Twitter, Inter-Services Public Relations (ISPR) head Lt Gen Asim Bajwa said the army chief also shared these details with Afghan chief executive Abdullah Abdullah and commander of Resolute Support Mission and United States Forces in Afghanistan Gen John Campbell.
Bajwa said investigation on the Charsadda university attack had revealed it was "being controlled from a location in Afghanistan through an Afghan cell phone by a TTP operative."
Earlier today, foreign office spokesman said that an investigation into the varsity attack is under way and will be completed shortly.
He added that due action will be taken against the perpetrators and facilitators of the attack once the process is completed.
At least 20 people were killed when four unidentified gunmen entered Bacha Khan University in Khyber Pakhtunkhwa's Charsadda town Wednesday and opened fire on students and faculty members as they gathered at the school for a poetry recital to commemorate the death anniversary of the activist and leader whom the school is named after.
The mastermind of the APS Peshawar attack, Umar Mansoor, of the banned Tehreek-i-Taliban Pakistan (TTP) Geedar group had claimed the attack through a post on his Facebook page, adding that four attackers were sent to the university.
Later, in a press conference, Inter-Services Public Relations (ISPR) Director General Lt Gen Asim Bajwa claimed that security forces have acheived major breakthroughs in identifying the terrorists who attacked the varsity.
Bajwa also said forensics and fingerprints of the attackers had been shared with the National Database Registration Authority (Nadra), adding that "an intelligence picture is also being created with input from Nadra."
He added that intelligence-based operations (IBOs) are being carried out to hunt down the facilitators of the terrorists involved in the attack.