Pakistan committed to root out terrorism: PM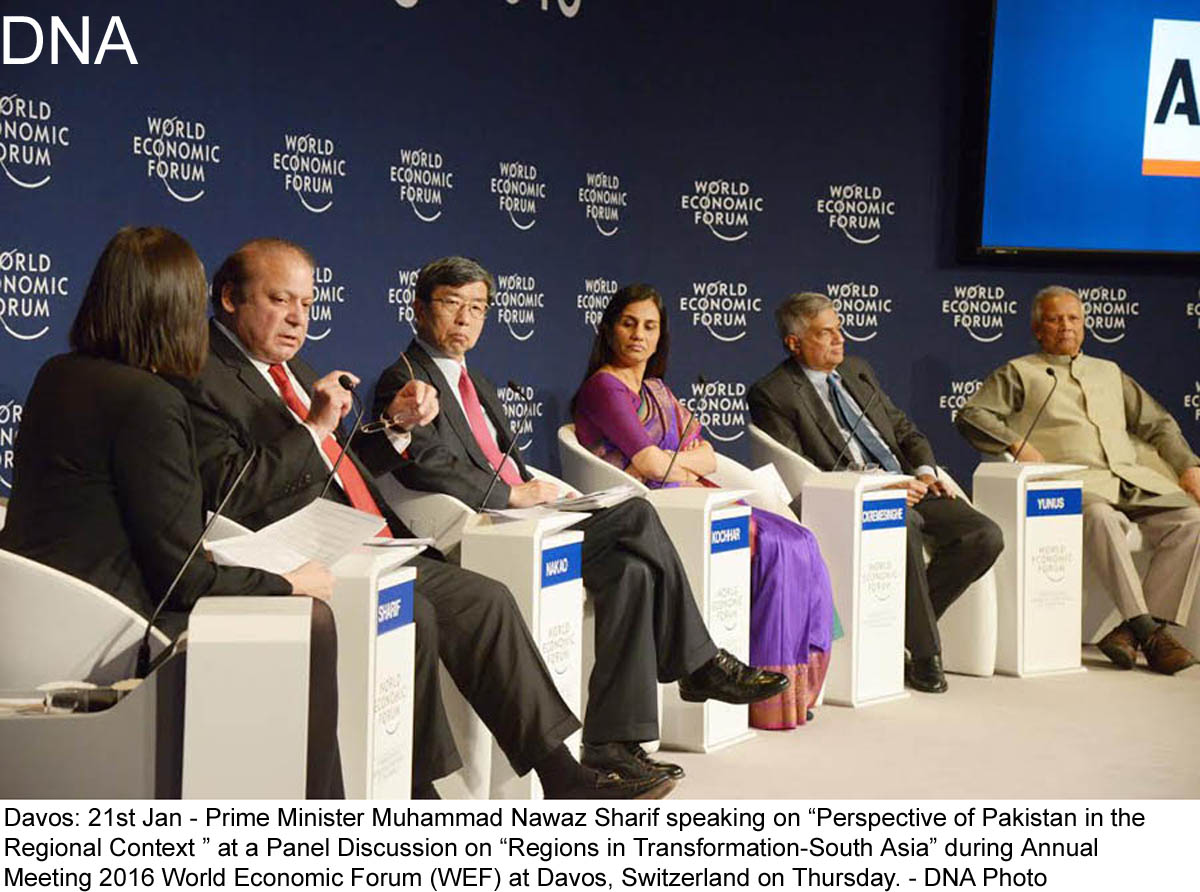 DAVOS, 21 JAN (DNA) – Prime Minister Nawaz Sharif has said terrorists were now going after soft targets in Pakistan after their infrastructure was dismantled by the security forces.
Addressing the annual session of World Economic Forum in Davos, the Prime Minister said that Pakistan has rendered countless sacrifices in war on terror.
Nawaz Sharif said that Pakistan has paid heavy price in fight against terrorism in term of loss of thousand of precious lives of innocent people and also faced $ 100 billion (one hundred billion US dollar) loss but the government is fully committed to eliminate this menace from the country.
The Prime Minister said our resolve to fight against terror became stronger despite we suffered severely. He said government launched operation Zarb-e-Azb which is continued successfully and many important goals have been achieved against the terrorists and but now extremists are on run and attacking the soft target.
He said the incumbent government gain many successes economically and growth rate increased due to the effective measures of the government. He said we inherited the many challenges on economic ground but now our economy is rapidly growing.
Nawaz Sharif said the as "we came into the rule the three biggest challenges were economic revival, energy shortage and scourge of terrorism which we wanted to eliminate. We addressed all the issues and witnessed success in many economic spheres and now the militancy is reducing and economy is growing."
Now the government is starving to overcome energy issue. China is investing 46 billion dollar in diverse field and China Pakistan Economic corridor will also benefit the country and region.
The Prime Minister said seventy percent population of Pakistan are below of thirty years and we are creating jobs with the help of private sector. He underscored that unemployment is decreasing and inflation rate is also than two percent.
Regarding relations with India, the Prime Minister said: "Once we normalize relations with India and resume the composite dialogue, there is immense potential for trade with it."
Earlier, he also met US Secretary of State John Kerry and Afghan president Ashraf Ghani on the sidelines of WEF. Finance Minister Ishaq Dar and Special Assistant to Prime Minister Tariq Fatemi were also present on the occasion. They exchanged views on Afghan situation in the meeting.
Prime Minister said his meetings with world leaders at the World Economic Forum will prove to be positive for attracting investment in the country. Later talking to media in Davos Thursday, Nawaz Sharif said the forum meeting will be very important for the world economy.
The World Economic Forum annual meeting provides an unparalleled platform for global leaders across business, government, international organizations, academia and civil society to discuss wide ranging economic and political issues. Participation in WEF would provide the Prime Minister opportunity to project Pakistan as a prime destination for business, investment and trade. DNA