Asif Zardari lauds adoption of anti honor killing laws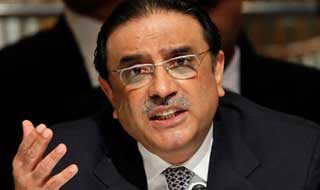 ISLAMABAD, OCT 8 (DNA)-  Former President Asif Zardari has lauded the Parliament for consensus legislation that closes the loopholes of forgiveness in murders in the name of honour on the one hand and stops rapists from walking away with impunity on the other.
Friday October 7 will be remembered as a ground breaking day when the Anti Honour Killing and Anti Rape Bills were passed in the joint session of the Parliament, he said in a statement today.
"The Parliament has done its job, what is needed now is to implement these laws in letter and spirit. A law is as good or as bad as is its implementation", Spokesperson Senator Farhatullah Babar quoted the former President as saying.
All members of the Parliament, all political parties and the government deserve to be commended.
The Party however has reasons to celebrate and rejoice more as the Bills were piloted by PPP legislators both in the Senate as well as in the joint sitting of the Parliament, Asif Zardari said in the statement.
The Parliament has shut the loopholes of forgiveness to killers in the name of honor and the murderer will have to spend a quarter of century behind bars even if all the near and dear relatives pardoned the killer.
By closing these loopholes the Parliament has asserted that it is not the spirit of religion to condone pre-meditated murders in the name of honor, he said.
Similarly by making the DNA test mandatory the Parliament has flung open the doors for modern technology to prevent and punish rape and stop rapists from escaping with impunity, the former President said.
Asif Zardari expressed the hope that the feeling of protection and security will lend new courage to the women to stand up for their rights in all walks of life and play even greater role in nation building and social uplift.=DNA
==========