Asad Umar meets World Bank, IMF officials in Washington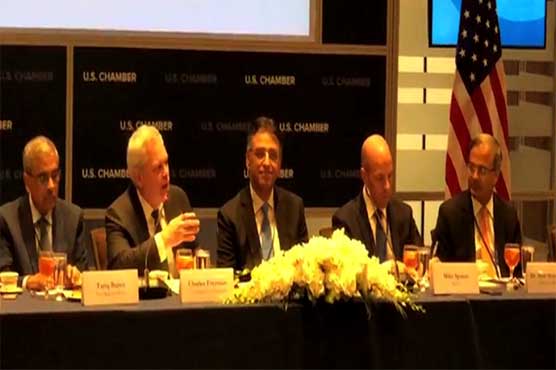 WASHINGTON , APR 11 (DNA) – – A delegation led by Finance Minister Asad Umar in Washington met World Bank Group President David Malpass and other senior officials of the Inter¬national Monetary Fund (IMF) in a bid to secure a three-year bailout package for Pakistan.
He and his team arrived in the United States (U.S for participating in the spring meetings of the World Bank Group, which includes the IMF but has also scheduled a bilateral meeting with US Treasury Secretary Steven Mnuchin on the sidelines.
The meetings are anticipated to be pivotal as the U.S. support is considered crucial for any World Bank or IMF package.
On the sidelines of the meetings, Umar apprised Malpass about the macroeconomic situation of Pakistan and discussed continuation of Pakistan's engagement with the World Bank Group.
To which, Malpass appreciated the reform process in the country and assured continued World Bank Support.
Asad Umar also met with the First Deputy Managing Director of IMF David Lipton and talked about the ongoing negotiations with the IMF.
The minister also held a meeting with members of the America-Pakistan Business Council where many companies expressed interest for investment and trade in Pakistan. The members of the council offered their support following establishment of certain projects in the near future in Pakistan.
The minister assured them that Pakistan has formulated and implemented effective business-friendly policies in the country for supporting businessmen, and Prime Minister Imran Khan has been monitoring the reforms himself.
Last week, the finance minister expressed hope to finalise the proposed IMF package during his two-day visit to the U.S.
In an annual report released on Tuesday, the IMF warned that Pakistan's growth rate may remain at 2.5 per cent till 2024 unless Islamabad undertakes much-needed economic reforms.
The World Bank on Sunday said that Pakistan's economic growth rate would decelerate further to 2.7pc — the lowest in South Asia — in the next financial year owing to the tight fiscal and monetary policies.
State Bank of Pakistan Governor Tariq Bajwa, Finance Secretary Younas Dagha, Economic Affairs Division Secretary Noor Ahmed and other senior officials of these institutions are also part of the Pakistani delegation in Washington to attend spring meetings.=DNA
=======